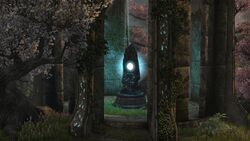 For other uses, see Mundus Stones (Legends).
The Mundus Stones grant players with special powers in The Elder Scrolls Online, similar to the Standing Stones in The Elder Scrolls V: Skyrim.
Mundus Stones are available to every player, and can always be interacted with, although only one Mundus effect may be active at a time. Interacting with a new Mundus Stone will automatically remove any previous Mundus effects.
Appearances
Edit
Ad blocker interference detected!
Wikia is a free-to-use site that makes money from advertising. We have a modified experience for viewers using ad blockers

Wikia is not accessible if you've made further modifications. Remove the custom ad blocker rule(s) and the page will load as expected.