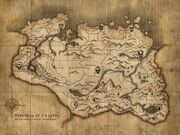 Nataly Dravarol, also spelled Natalia, is a cartographer who worked during the Third and Fourth Era. She is best known as the creator of the map of Cyrodiil in 3E 433 and the map of Skyrim in 4E 182.
Bethesda Softworks released actual copies of these maps, which come shipped with the game.
Her name appears to suggest Dunmer origin, which could explain her long career, although this is only speculation.
The sole "Interface Artist" listed in the credits for both Oblivion and Skyrim is Natalia Smirnova. It is likely that Nataly Dravarol is an in-joke/homage to Natalia, who is likely to have created the maps that shipped with the game.
She is named as Natalia Dravarol on the Cyrodiil Map, and Nataly Dravarol on the Skyrim Map.
Appearances
Edit
Ad blocker interference detected!
Wikia is a free-to-use site that makes money from advertising. We have a modified experience for viewers using ad blockers

Wikia is not accessible if you've made further modifications. Remove the custom ad blocker rule(s) and the page will load as expected.