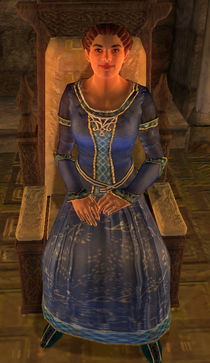 "Traditionally, the East is regarded as the region's soul: magnanimous, tolerant, and administrative. It was in the rain forests of the Nibenay Valley that the original Cyro-Nordic tribes, the Nibenese, learned a self-reliance that separated them culturally and economically from Skyrim."
The Nibeneses are a ethno-cultural race of men native to Nibenay in the modern day province of Cyrodiil. It is contrasted with a Colovian, native to Colovia. Together they collectively form the Imperials.
Physiology
Edit
The Nibeneans (and Colovians) are a race of men descended from the Nedic who were enslaved by the Ayleids, but diverged a bit after consecutive invasions and interactions with other races. The Nibenese have a greater appreciation for magic, art, commerce, and spirituality, the Colovians while are more culturally like the Nords, sharing similar beliefs such as a heavy martial and seafaring tradition.[1][2]
Appearances
Edit
References