Nightblade
Talk

4
19,124pages on
this wiki
Spell and shadow are their friends. By darkness they move with haste, casting magic to benefit their circumstances. Nightblades are notorious for being assassins and thieves, they are magical skirmishers adept in the magical arts as well as concealment and mobility. Nightblades are adept at reconasaince work, as they are skilled in skirmish tactics and mobility, this allowes them to observe from a distance and eliminate sentries quickly and quietly. To remain quick on their feet the Nightblade typically wears light armor and carries small blades, easy to conceal and not burdening to carry.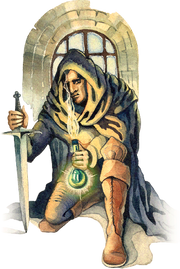 Oblivion
---
Description and use
---
The Nightblade is a algamation of mage and thief. In battle they tend to use destruction magic to weaken their foes with spells such as drain health or damage armor, afterwords dispatching the enemy quickly.
They use their speed and skill in tandem magic to reach places others cannot go. The Nightblade serves as an effective killer using mobility and light armor to pursue their prey. They are among the fastest classes.
They usualy use short blades and possibly bows if deemed necessary, this makes them a very versatile class, as they can avoid combat entirely, engage with a short blade in close combat, weaken the opponent using destruction and accurate marksmanship.
Overall the effevtivness of the class has been reduced, nightblades were originaly famous for their use of illusion and mysticism magics as well. If one was to make a Nightbladeesque class the primary focus should probably be: illusion, mysticism, sneak, alteration, blade, light armor and, destruction.
See:
Appearences