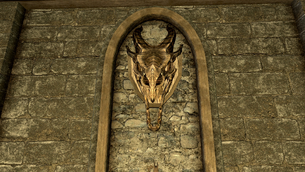 "Long ago in the First Age, a fearsome dragon named Numinex ravaged the whole of Skyrim. The dreadful drake wiped out entire villages, burned cities and killed countless Nords. It seemed that no power in Tamriel could stop the monster."
Numinex
(
Dovahzul
:






, "Unique/Now-
[?]
-
[?]
") is the name of the
dragon
that was
shouted
into submission by king
Olaf One-Eye
atop
Mount Anthor
in
Skyrim
.
King Olaf kept the dragon in captivity as a personal pet in Dragonsreach, which was built to house the humiliated beast.
Paarthurnax tells the Dragonborn that he would visit Numinex during his imprisonment, and that Numinex was so lonely and disturbed by his captivity that he could not remember his own name. It is not explained how Paarthurnax was able to visit Numinex and escape without notice, nor does he offer any reason why he did not attempt to free Numinex from captivity.
After Numinex died, his head was removed and placed above the Jarl of Whiterun's throne, where it remained to be displayed for several years, at least during the events of The Elder Scrolls V: Skyrim.
Appearances
Edit