Orichalcum Ore
Talk

0
19,124pages on
this wiki
Orichalcum Ore
Weight:
1
Base Value:
20
Type: Ore
FormID:

0005ACDD
Orichalcum Ore is used to make Orichalcum Ingots at a Smelter. Once made into ingots it is used to create and improve Orcish armor and weapons.
Orichalcum Ore Veins
Edit
Orichalcum Ore Veins can be mined with a Pickaxe to obtain Orichalcum Ore. Each vein, when mined, has a chance to produce a precious gem.
Locations
Edit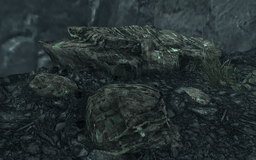 Orichalcum Ore can be purchased from Blacksmith merchants or found:
9 veins in Bilegulch Mine, Southwest of Fort Sungard.
8 veins in Dushnikh Mine, Southeast of Markarth.
7 veins in Mor Khazgur Mine, inside Mor Khazgur, to the far Northwest of Skyrim. Also 1 ore piece on a table can be stolen next to 2 ingots which can also be stolen. 
4 veins in Giant's Grove, around the Shrine of Malacath.
3 veins in Blackreach.
3 veins on the peak overlooking Skyborn Altar.
2 veins about halfway between Nightgate Inn and Irkngthand. Shortly east of the road, behind some tree trunks and tall rocks.
2 veins on top of the cliff south of Valtheim Towers and 1 vein across the bridge, just north from the stool
1 Near the very peak of the Throat of the World.
1 vein high up on a mountain face southwest of Uttering Hills Cave.
1 vein in Chillwind Depths.
1 vein in Volskygge Passages.
1 vein in the cave at Sleeping Tree Camp
1 vein downhill to the east of Frostflow Lighthouse into the glaciers. Directly across from the frozen mammoth.
1 vein three islands E-NE from Septimus Signus' Outpost, between a glacier and some barnacle'd rocks. Watch out for bears.
1 vein to the far right of Frostmere Depths within Frostmere Crypt, below and right of the word wall.
Along the path to the Throat of the World.
Bonestrewn Crest, Southwestern side of the mountain.
Along the road from Whistling Mine, West of Winterhold and Southwest from an unmarked hunting camp, between some rocks.
Along a cliff to the Northwest of Shearpoint, Southeast from Korvanjund.
Froki's Shack near Autumnwatch Tower, against the bed of rocks near the wood chopping block.
The metal Orichalcum is first mentioned in the 7th century B.C. by Hesoid and in the homeric hymn dedicated to Aphrodite, dated to the 630s.
Orichalcum is also used in the 1992, PC-Adventure Game, Indiana Jones and the Fate of Atlantis, where beads of the metal are used to release massive amounts of energy, as well as transforming mortals into gods.