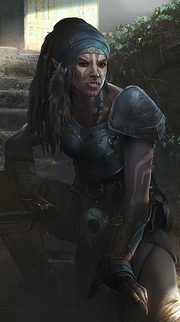 For other uses, see Orsimer.

"The people of the Wrothgarian and Dragontail Mountains are renowned as both craftsmen and berserkers. You'll collect Orc cards more quickly, reflecting your ability to lead other Orcs into battle."
―Character creation screen[1]
Orsimer is a race appearing in the strategy card game The Elder Scrolls: Legends.
[?]
This list is incomplete; help us expand it.
Appearances
Edit
References