Paragon Platform
Talk

3
19,125pages on
this wiki
Paragon Platform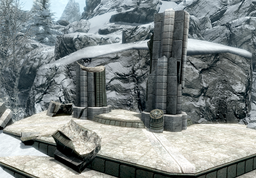 Map
Have a map of this location?
Then please upload it!
Paragon Platform
is a
location
found in
The Elder Scrolls V: Dawnguard
.
The Paragon Platform is a small platform in the forgotten vale where Paragons found on Frost Giants are used to open portals to secret locations. If a Paragon has been used in a platform, it can be taken out and switched with another.
How to get there
After fast traveling to the Forgotten Vale, enter the Shrine of Resolution. From there, travel due east, you'll come over a hill and straight ahead of you across the river you'll see a cave with a Frost Giant. Kill that Frost Giant for the Sapphire Paragon. The Paragon Platform will be behind you across the river.
There are 5 different paragons that each open a portal to a new location.
The Sapphire Paragon opens a portal to the Inner Sanctum. Straight ahead of you will be 3 chests. Of the three chests the center one is elevated. Each chest contains gems, gold, and potions. On the floor around the the elevated chest are loose gems and pieces of elven armor.
The Emerald Paragon opens a portal to Forgotten Vale Overlook. If you follow the waterfall, to the right, by the drop off there will be a treasure chest with gold, potions and gems. Some elven/dwarven weapons, a skeleton, and the Unknown Book Vol. 2 will also be there.
The Ruby Paragon opens a portal to the Forgotten Vale Forest. It is a dense forest, travel south west and you will see some ruins on your right. Be careful of the Falmer and Trolls that populate the area. A Falmer Warmonger has Auriel's Shield, a heavy armor shield. The chest contains a few gems and potions.
The Amethyst Paragon opens portal to Darkfall Grotto. There is a chest located to your right contains potions, gold, and scrolls.
The Diamond Paragon opens a portal to Glacial Crevice. Follow the path to your right to a chest containing gems, gold, and potions.
Gallery
See also
Appearances