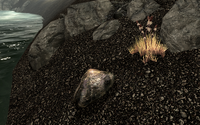 Pearl Oysters can be found abundantly along the rocky shores of Solstheim. They will contain either small or normal-sized pearls, which can be used as ingredients. Unlike clams, meat cannot be directly harvested from the pearl oysters. They are also darker in color compared to clams, which have a lighter brown color. 
Appearances
Edit
Ad blocker interference detected!
Wikia is a free-to-use site that makes money from advertising. We have a modified experience for viewers using ad blockers

Wikia is not accessible if you've made further modifications. Remove the custom ad blocker rule(s) and the page will load as expected.