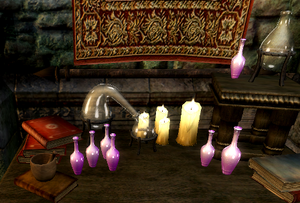 For other uses, see Potions.
Potions are drinkable items that can be made by Alchemy. Mixing certain ingredients together can produce either beneficial or harmful potions that imbue a temporary boost or loss to the drinker's statistics. Potions come in a variety of magnitudes. Default potion magnitude are given special, level-based names. For example, a Weak Potion of Healing would not give the Hero as much health as a standard Potion of Healing.
Effect and magnitude
Edit

The number of effects alchemists can add to a potion depends on the Alchemy skill level. The total amount of potions that can be used at any one time is four. The number of potions a consumer can have in effect at one time is not influenced by other effects from spells or enchantments. Only four potions can be consumed within one minute.
Potion effects stack (add up on top of one another), but only up the amount of potions consumed.
Color palettes
Edit
In the inventory, potions become one of two colors: pink or green. Pink potions benefit the drinker when consumed. These potions include those which Restore Health or Fortify Attributes. Green poisons are elixirs with harmful effects. These cannot be consumed directly, but can be applied to weapons for use against hostiles.
Main article: Beverages (Oblivion)
Alcoholic drinks such as ale, beer, and wine are potions as well, but provide mostly negative effects.
Potion of Absorption
Edit
Name/ID
Effect
Weak Potion of Absorption


0009849F

Absorp Spell for 15 seconds.
144
Potion of Absorption


00065a6d

Absorp Spell for 30 seconds.
699
Strong Potion of Absorption


00073f53

Absorp Spell for 45 seconds.
1763
Potion of Agility
Edit
Name/ID
Effect
Weak Potion of Agility


000092E8

Fortify players agility for 30 seconds, with 10 magnitude.
34
Potion of Agility


00098471

Fortify players agility for 30 seconds, with 15 magnitude.
57
Strong Potion of Agility


00073f53

Fortify players agility for 30 seconds, with 20 magnitude.
83
Potion of Alacrity
Edit
Name/ID
Effect
Weak Potion of Alacrity


00009318

Restore players speed, with 10 magnitude.
29
Potion of Alacrity


0009849B

Restore players speed, with 15 magnitude.
72
Strong Potion of Alacrity


00009319

Restore players speed, with 20 magnitude.
174
Potion of Antivenom
Edit
Name/ID
Effect
Weak Potion of Antivenom


0009848F

Resist poison for 15 seconds, with 15 magnitude.
24
Potion of Antivenom


00009308

Resist poison for 30 seconds, with 20 magnitude.
69
Strong Potion of Antivenom


00098490

Resist poison for 30 seconds, with 40 magnitude.
168
Potion of Chameleon
Edit
Name/ID
Effect
Weak Potion of Chameleon


00088B1D

Add the Chameleon effect to the player (be invisible) for 30 seconds, with 15 magnitude.
60
Potion of Chameleon


00088B1C

Add the Chameleon effect to the player (be invisible) for 30 seconds, with 15 magnitude.
60
Strong Potion of Chameleon


00088B1E

Add the Chameleon effect to the player (be invisible) for 30 seconds, with 25 magnitude.
116
Potion of Charisma
Edit
Name/ID
Effect
Weak Potion of Charisma


00009316

Restore players personality, with 5 magnitude.
29
Potion of Charisma


0009849A

Restore players personality, with 10 magnitude.
72
Strong Potion of Charisma


00009317

Restore players personality, with 20 magnitude.
175
Potion of Dedication
Edit
Name/ID
Effect
Weak Potion of Dedication


00056E52

Restore players willpower, with 5 magnitude.
29
Potion of Dedication


00056E55

Restore players willpower, with 10 magnitude.
72
Strong Potion of Dedication


00056E58

Restore players willpower, with 20 magnitude.
175
Potion of Detect Life
Edit
Name/ID
Effect
Weak Potion of Detect Life


0000922F

Detect life for 30 seconds, with 30 magnitude
18
Potion of Detect Life


000984A6

Detect life for 30 seconds, with 60 magnitude
45
Strong Potion of Detect Life


00009230

Detect life for 30 seconds, with 100 magnitude
87
Potion of Disbelief
Edit
Name/ID
Effect
Weak Potion of Disbelief


0009848D

Resist Magic for 5 seconds, with 15 Magnitude
32
Potion of Disbelief


00009307

Resist Magic for 30 seconds, with 10 Magnitude
114
Strong Potion of Disbelief


0009848E

Resist Magic for 30 seconds, with 15 Magnitude
192
Potion of Dispel
Edit
Name/ID
Effect
Weak Potion of Dispel


000984A7

Dispel, with 15 Magnitude
15
Potion of Dispel


0000927B

Dispel, with 30 Magnitude
27
Strong Potion of Dispel


000984A8

Dispel, with 45 Magnitude
47
Potion of Endurance
Edit
Name/ID
Effect
Weak Potion of Endurance


000092EA

Fortify Endurance for 30 seconds 10 magnitude
34
Potion of Endurance


00098472

Fortify Endurance for 30 seconds with 15 magnitude
57
Strong Potion of Endurance


000092EB

Fortify Endurance for 30 seconds with 20 magnitude
83
Potion of Fatigue
Edit
Name/ID
Effect
Weak Potion of Fatigue


000092EC

Fortify Fatigue for 30 seconds 30 magnitude
9
Potion of Fatigue


00098473

Fortify Fatigue for 30 seconds with 45 magnitude
15
Strong Potion of Fatigue


000092ED

Fortify Fatigue for 34 seconds with 60 magnitude
33
Potion of Feather
Edit
Name/ID
Effect
Weak Potion of Feather


0009846D

Feather for 240 seconds, with 25 magnitude
14
Potion of Feather


000092E6

Feather for 300 seconds, with 50 magnitude
44
Strong Potion of Feather


0009846E

Feather for 300 seconds, with 100 magnitude
108
Potion of Fire Shield
Edit
Name/ID
Effect
Weak Potion of Fire Shield


0009846F

Fire Shield for 20 seconds, with 10 magnitude
36
Potion of Fire Shield


000092E7

Fire Shield for 30 seconds, with 15 magnitude
91
Strong Potion of Fire Shield


00098470

Fire Shield for 45 seconds, with 20 magnitude
197
Potion of Fortitude
Edit
Name/ID
Effect
Weak Potion of Fortitude


0000930C

Restore Endurance 5 points
29
Potion of Fortitude


00098494

Restore Endurance 10 points
72
Strong Potion of Fortitude


0000930D

Restore Endurance 20 points
175
Potion of Fortune
Edit
Name/ID
Effect
Weak Potion of Fortune


00009314

Restore Luck 5 points
29
Potion of Fortune


00098498

Restore Luck 10 points
72
Strong Potion of Fortune


00009315

Restore Luck 20 points
175
Potion of Frost Shield
Edit
Name/ID
Effect
Weak Potion of Frost Shield


0009847B

Frost Shield 20 seconds, with 10 magnitude
36
Potion of Frost Shield


000092FE

Frost Shield 30 seconds, with 15 magnitude
91
Strong Potion of Frost Shield


0009847C

Frost Shield 45 seconds, with 20 magnitude
197
Potion of Grace
Edit
Name/ID
Effect
Weak Potion of Grace


00000930A

Restore Agility 5 points
29
Potion of Frost Grace


00098493

Restore Agility 10 points
72
Strong Potion of Grace


0000930B

Restore Agility 20 points
175
Potion of Grounding
Edit
Name/ID
Effect
Weak Potion of Grounding


00098491

Resist Shock 15 points for 15 seconds
24
Potion of Frost Grounding


00009309

Resist Shock 20 points for 30 seconds
69
Strong Potion of Grounding


00098492

Resist Shock 40 points for 30 seconds
168
Potion of Healing
Edit
Name/ID
Effect
Weak Potion of Healing


00009310

Restore Health 20 points
46
Potion of Frost Healing


00098496

Restore Health 35 points
94
Strong Potion of Healing


00009311

Restore Health 50 points
149
Potion of Health
Edit
Name/ID
Effect
Weak Potion of Health


000092EE

Fortify Health 10 points for 60 seconds
16
Potion of Frost Health


00098474

Fortify Health 30 points for 60 seconds
65
Strong Potion of Health


000092EF

Fortify Health 50 points for 60 seconds
125
Potion of Insight
Edit
Name/ID
Effect
Weak Potion of Insight


00009312

Restore Intelligence 5 points
29
Potion of Frost Insight


00098497

Restore Intelligence 10 points
72
Strong Potion of Insight


00009313

Restore Intelligence 20 points
175
Potion of Insulation
Edit
Name/ID
Effect
Weak Potion of Insulation


00009312

Resist Fire 15 points for 15 seconds
24
Potion of Frost Insulation


00098497

Resist Fire 20 points for 30 seconds
69
Strong Potion of Insulation


00009313

Resist Fire 40 points for 30 seconds
168
Potion of Intelligence
Edit
Name/ID
Effect
Weak Potion of Intelligence


000092F0

Fortify Intelligence 10 points for 30 seconds
34
Potion of Frost Intelligence


00098475

Fortify Intelligence 15 points for 30 seconds
57
Strong Potion of Intelligence


000092F1

Fortify Intelligence 20 points for 30 seconds
83
Potion of Invisibility
Edit
Name/ID
Effect
Weak Potion of Invisibility


0009847D

Invisibility for 15 seconds
60
Potion of Frost Invisibility


000092FF

Invisibility for 30 seconds
120
Strong Potion of Invisibility


0009847E

Invisibility for 45 seconds
180
Potion of Light
Edit
Name/ID
Effect
Weak Potion of Light


0009847F

Light 20 points for 60 seconds
14
Potion of Frost Light


00009300

Light 30 points for 120 seconds
47
Strong Potion of Light


00098480

Light 40 points for 180 seconds
103
Potion of Luck
Edit
Name/ID
Effect
Weak Potion of Luck


000092F2

Fortify Luck 10 points for 30 seconds
34
Potion of Frost Luck


00098476

Fortify Luck 15 points for 30 seconds
57
Strong Potion of Luck


000092F3

Fortify Luck 20 points for 30 seconds
83
Potion of Magicka
Edit
Name/ID
Effect
Weak Potion of Magicka


000092F8

Fortify Magicka 30 points for 30 seconds
34
Potion of Frost Magicka


00098477

Fortify Magicka 30 points for 60 seconds
69
Strong Potion of Magicka


000092F9

Fortify Magicka 50 points for 60 seconds
134
Potion of Might
Edit
Name/ID
Effect
Weak Potion of Might


0000931C

Restore Strength 5 points
29
Potion of Frost Might


0009849C

Restore Strength 10 points
72
Strong Potion of Might


0000931D

Restore Strength 20 points
175
Potion of Nighteye
Edit
Name/ID
Effect
Weak Potion of Nighteye


00098481

Restore Strength 5 points
33
Potion of Frost Nighteye


00009301

Restore Strength 10 points
66
Strong Potion of Nighteye


00098482

Restore Strength 20 points
198
Potion of Personality
Edit
Name/ID
Effect
Weak Potion of Personality


000092F4

Fortify Personality 10 points for 30 seconds
34
Potion of Frost Personality


00098478

Fortify Personality 15 points for 30 seconds
57
Strong Potion of Personality


000092F5

RFortify Personality 20 points for 30 seconds
83
Potion of Reflection
Edit
Name/ID
Effect
Weak Potion of Reflection


00098485

Reflect Spell 15 points for 15 seconds
168
Potion of Frost Reflection


00009303

Reflect Spell 30 points for 15 seconds
408
Strong Potion of Reflection


00098486

Reflect Spell 30 points for 50 seconds
1360
Potion of Resistance
Edit
Name/ID
Effect
Weak Potion of Resistance


00098487

Resist Disease 15 points for 15 seconds
24
Potion of Frost Resistance


00009304

Resist Disease 30 points for 30 seconds
116
Strong Potion of Resistance


00098488

Resist Disease 30 points for 45 seconds
174
Potion of Respite
Edit
Name/ID
Effect
Weak Potion of Respite


0000930E

Restore Fatigue 20 points
9
Potion of Frost Respite


00098495

Restore Fatigue 35 points
18
Strong Potion of Respite


0000930F

Restore Fatigue 50 points
29
Potion of the Sea
Edit
Name/ID
Effect
Weak Potion of the Sea


00009324

Water Breathing for 30 seconds
43
Potion of Frost the Sea


000984A3

Water Breathing for 45 seconds
65
Strong Potion of the Sea


00009325

Water Breathing for 90 seconds
130
Potion of Seastride
Edit
Name/ID
Effect
Weak Potion of Seastride


00009326

Water Walking for 30 seconds
39
Potion of Frost Seastride


000984A4

Water Walking for 45 seconds
58
Strong Potion of Seastride


00009327

Water Walking for 90 seconds
117
Potion of Shock Shield
Edit
Name/ID
Effect
Weak Potion of Shock Shield


00009AE0

Shock Shield 10 points for 20 seconds
36
Potion of Frost Shock Shield


00009AE3

Shock Shield 15 points for 30 seconds
91
Strong Potion of Shock Shield


0009AE4

Shock Shield 20 points for 45 seconds
197
Potion of Sorcery
Edit
Name/ID
Effect
Weak Potion of Sorcery


0000931A

Restore Magicka 50 points
37
Potion of Frost Sorcery


00098499

Restore Magicka 75 points
62
Strong Potion of Sorcery


0000931B

Restore Magicka 100 points
90
Potion of Speed
Edit
Name/ID
Effect
Weak Potion of Speed


000092F6

Fortify Speed 10 points for 30 seconds
34
Potion of Frost Speed


00098479

Fortify Speed 15 points for 30 second
57
Strong Potion of Speed


000092F7

Fortify Speed 20 points for 30 seconds
83
Potion of Strength
Edit
Name/ID
Effect
Weak Potion of Strength


000092FA

Fortify Strength 10 points for 30 seconds
34
Potion of Frost Strength


0009847A

Fortify Strength 15 points for 30 seconds
57
Strong Potion of Strength


000092FB

Fortify Strength 20 points for 30 seconds
83
Potion of Warmth
Edit
Name/ID
Effect
Weak Potion of Warmth


0009848B

Resist Frost 15 points for 15 seconds
24
Potion of Frost Warmth


00009306

Resist Frost 20 points for 30 seconds
69
Strong Potion of Warmth


0009848C

Resist Frost 40 points for 30 seconds
168
Potion of Willpower
Edit
Name/ID
Effect
Weak Potion of Willpower


00056E51

Fortify Willpower 10 points for 30 seconds
34
Potion of Frost Willpower


00056E53

Fortify Willpower 15 points for 30 seconds
57
Strong Potion of Willpower


00056E57

Fortify Willpower 20 points for 30 seconds
83
Common Potions
Edit
Potion of Cure Poison
Potion of Healing
Potion of Respite
Potion of Sorcery
Potion of the Sea