Ad blocker interference detected!
Wikia is a free-to-use site that makes money from advertising. We have a modified experience for viewers using ad blockers

Wikia is not accessible if you've made further modifications. Remove the custom ad blocker rule(s) and the page will load as expected.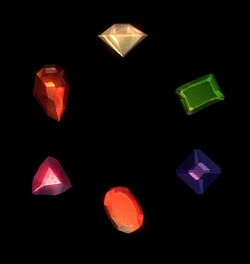 For other uses, see Precious Gem.
Gems are items found in The Elder Scrolls V: Skyrim. They are a key component for creating Jewelry.
Locations
Edit
General locations
Edit
With the acquisition of the Prowler's Profit ability, Precious Gems of all sorts and all qualities will appear in a large number of places, 100% of the time. The Prowler's Profit ability spawns Gems of varying qualities in any container permanently, from only one gem to rarely up to 10 gems in Boss Chests and Dragons.
Giants will always carry gems, mostly Sapphires and Emeralds it seems.
Dragons have a chance to carry gems. Legendary DragonsDG have the highest chance of dropping Flawless Diamonds.
Burial Urns will supply a lot of these gems, along with a small amount of Gold. Found in Nordic Ruins and various tombs and dungeons, Urns are the most common replenishable supply of Gems and small gold.
The corpses of Draugr sometimes have them. Draugr that are are static containers (I.e., the only possible interaction is to loot them) also have a chance to carry gems. With the addition of Dragonborn, Stalhrim deposits contain Draugr when mined out, and are a good source for both the valuable crafting material and gems.
Sometimes bandit leaders will carry Precious Gems, very rarely of the Flawless Quality. 
Boss Chests, miscellaneous chests, chests found in homes and other areas around Skyrim have a good chance to carry at least one gem, regardless of the NPC that owns or guards the chest.
Fixed locations
Edit
Merchants
Edit
Merchants throughout Skyrim also buy and sell gems; many of the merchants that buy and sell jewelry will also buy and sell gems. General goods merchants can also buy gems.
Precious Gemstones should not be confused with Soul Gems, which serve an entirely different purpose.
Flawless Gemstones appear slightly different from normal gemstones. Gemstones have a somewhat irregular surface, while Flawless Gemstones are symmetrical.
Flawless Diamonds have the highest value per weight unit in the entire game, thereby offering the most efficient way to gain , especially since they are fairly easy to come by with the Prowler's Profit ability. There is a value of 1,000 for 1 unit of Flawless Diamonds. This mantle has since been overtaken by the Exquisite Sapphire, included with Dragonborn, with a worth of 5,000 , while only weighing 0.2 pounds.
Appearances
Edit