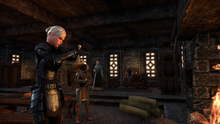 Provisioning is one of the crafting skill trees available in The Elder Scrolls Online. It allows the Vestige to craft beverages and food. Provisioners can find recipes and ingredients in barrels, crates, sacks, or most other containers, and they can cook or create drinks as long as they have a recipe and the corresponding ingredients and Provisioning skills.[1]
Passive Abilities
Edit
For a listing of recipes, see Recipes (Online).
Appearances
Edit
References
Ad blocker interference detected!
Wikia is a free-to-use site that makes money from advertising. We have a modified experience for viewers using ad blockers

Wikia is not accessible if you've made further modifications. Remove the custom ad blocker rule(s) and the page will load as expected.