Ad blocker interference detected!
Wikia is a free-to-use site that makes money from advertising. We have a modified experience for viewers using ad blockers

Wikia is not accessible if you've made further modifications. Remove the custom ad blocker rule(s) and the page will load as expected.
Puzzling Pillar Ruins is an unmarked location found in The Elder Scrolls V: Skyrim.
On the rough path leading toward Sleeping Tree Camp is a group of standing stones and three Nordic Puzzle Pillars. Next to the puzzle is a closed grate on top of a caved-in ruin. Solving the puzzle and activating the handle unlocks and opens the grate allowing access down the spiral staircase to a skeleton and a chest.
The solution of the puzzle is Whale, Eagle, Snake (from left to right if standing by the lever, as shown in the picture). After rotating the symbols, activate a handle to finally open the grate. The symbols to solve the puzzle must face this handle, not the grate, or it will not open.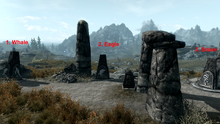 Notable items
Edit
 PS3 

  As of the 1.8 update, and installation of Dawnguard, Hearthfire, and Dragonborn, the chest has proven to be safe. Items were stored there for three to four in-game months before update, and were still safe afterwards. A Hypothetical Treachery will respawn if taken, but this does not appear to affect stored items.
Appearances
Edit