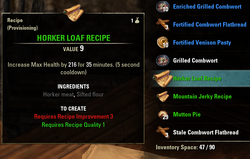 For other uses, see Recipes.
Recipes are part of the Provisioning craft in The Elder Scrolls Online. They can be found anywhere in Tamriel or Coldharbour, usually in trunks, chests, backpacks, and most "furniture" containers, or bought from Chefs and Brewers. The recipe must be read in order to learn it, which will then allow the Vestige to combine the ingredients in the recipe at a cooking fire. Certain recipes are only available during special timed events.
Recipes that increase attribute recovery are beverages, crafted by brewing, and recipes that increase maximum attribute amounts are food items, crafted by cooking. Certain Delicacies have effects of both types. Green recipes have one effect, blue recipes have two, and purple recipes have three.
There are eight categories each of cooking and brewing recipes. Cooking categories are meat dishes, fruit dishes, vegetable dishes, savouries, ragout, entremet, gourmet, and delicacies. Brewing categories are alcoholic drinks, tea, tonics, liqueurs, tinctures, cordial teas, distillates, and delicacies.
Drinks have a five-second cooldown, while food has a six-second cooldown. Only one food or drink may be active at one time.
Current recipes
Edit
Notice: These lists are still works in progress.
| Recipe | Ingredients | Max Health | Max Magicka | Max Stamina | Health Regen | Magicka Regen | Stamina Regen | Time (min) | Level | Value |
| --- | --- | --- | --- | --- | --- | --- | --- | --- | --- | --- |
| Roast Pig | White Meat | 743 | | | | | | 35 | 1 | 1 |
| Chicken Breast | Poultry | 743 | | | | | | 35 | 1 | 1 |
| Flank Steak | Red Meat | 1156 | | | | | | 35 | 5 | 1 |
| Grilled Hare | Small Game | 1156 | | | | | | 35 | 5 | 1 |
| Hunter's Pie | Game, Saltrice | 1569 | | | | | | 35 | 10 | 2 |
| Stir-Fried Garlic Beef | Red Meat, Garlic | 1982 | | | | | | 35 | 15 | 2 |
| Pan-Fried Trout | Fish, Flour | 1982 | | | | | | 35 | 15 | 2 |
| Whiterun Cheese-Baked Trout | Fish, Cheese | 2395 | | | | | | 35 | 20 | 2 |
| Venison Pasty | Game, Flour | 2395 | | | | | | 35 | 20 | 2 |
| Hare in Garlic Sauce | Small Game, Garlic | 3221 | | | | | | 35 | 30 | 3 |
| Bruma Jugged Rabbit | Small Game, Seasoning | 3634 | | | | | | 35 | 35 | 3 |
| Solstheim Elk and Scuttle | Game, Cheese | 4460 | | | | | | 35 | 45 | 4 |
| Argonian Saddle-Cured Rabbit | Small Game, Saltrice | 5534 | | | | | | 35 | C50 | 4 |
| The Skald-King's Patty Melt | Red Meat, Cheese | 6195 | | | | | | 35 | C100 | 5 |
| Orcish Bratwurst on Bun | White Meat, Flour | 6195 | | | | | | 35 | C100 | 5 |
| Crawdad Quiche | Fish, Millet | 6195 | | | | | | 35 | C100 | 5 |
| Garlic-and-Pepper Venison Steak | Game, Garlic | 6608 | | | | | | 35 | C150 | 5 |
| Millet and Beef Stuffed Peppers | Red Meat, Millet | 6608 | | | | | | 35 | C150 | 5 |
| Lilmoth Garlic Hagfish | Fish, Garlic | 6608 | | | | | | 35 | C150 | 5 |
| Banana Surprise | Bananas | | 680 | | | | | 35 | 1 | 1 |
| Banana Millet Muffin | Bananas, Millet | | 1436 | | | | | 35 | 10 | 2 |
| Bravil Melon Salad | Melon, Garlic | | 1436 | | | | | 35 | 10 | 2 |
| Deshaan Honeydew Hors D'Ouevre | Melon, Saltrice | | 1814 | | | | | 35 | 15 | 2 |
| Fried Green Tomatoes | Tomato, Seasoning | | 1814 | | | | | 35 | 15 | 2 |
| Stuffed Grape Leaves | Jazbay Grapes, Millet | | 1814 | | | | | 35 | 15 | 2 |
| Apple Cobbler Supreme | Apples, Flour | | 3326 | | | | | 35 | 35 | 3 |
| Summer Sundas Soup | Tomato, Millet | | 3704 | | | | | 35 | 40 | 4 |
| Melon-Chevre Salad | Melon, Cheese | | 4082 | | | | | 35 | 45 | 4 |
| Mistral Banana Bread | Bananas, Flour | | 4082 | | | | | 35 | 45 | 4 |
| Fresh Apples and Eidar Cheese | Apples, Cheese | | 5065 | | | | | 35 | C50 | 4 |
| House Hlaalu Pumpkin Risotto | Pumpkin, Saltrice | | 5670 | | | | | 35 | C100 | 5 |
| Bananas in Moon-Sugar Syrup | Bananas, Seasoning | | 5670 | | | | | 35 | C100 | 5 |
| Garlic Guar Stuffed Grape Leaves | Jazbay Grapes, Garlic | | 5670 | | | | | 35 | C100 | 5 |
| Firsthold Fruit and Cheese Plate | Jazbay Grapes, Cheese | | 6048 | | | | | 35 | C150 | 5 |
| Thrice-Baked Gorapple Pie | Apples, Saltrice | | 6048 | | | | | 35 | C150 | 5 |
| Tomato Garlic Chutney | Tomato, Garlic | | 6048 | | | | | 35 | C150 | 5 |
| Carrot Soup | Carrots | | | 680 | | | | 35 | 1 | 1 |
| Roast Corn | Corn | | | 680 | | | | 35 | 1 | 1 |
| Steamed Radishes | Radish | | | 1058 | | | | 35 | 5 | 1 |
| Borscht | Beets | | | 1058 | | | | 35 | 5 | 1 |
| Balmora Cabbage Biscuits | Greens, Flour | | | 1814 | | | | 35 | 15 | 2 |
| Spicy Beet Salad | Beets, Seasoning | | | 1814 | | | | 35 | 15 | 2 |
| Port Hunding Cheese Fries | Potato, Cheese | | | 1814 | | | | 35 | 15 | 2 |
| Alik'r Beets with Goat Cheese | Beets, Cheese | | | 2192 | | | | 35 | 20 | 2 |
| Rihad Beet and Garlic Salad | Beets, Garlic | | | 2570 | | | | 35 | 25 | 3 |
| Eidar Radish Salad | Radish, Cheese | | | 2570 | | | | 35 | 25 | 3 |
| Potato Rice Blintzes | Corn, Seasoning | | | 2948 | | | | 35 | 25 | 3 |
| Chorrol Corn on the Cob | Potato, Saltrice | | | 2570 | | | | 35 | 30 | 3 |
| Roasted Beet and Millet Salad | Beets, Millet | | | 3326 | | | | 35 | 35 | 3 |
| Indoril Radish Tartlets | Radish, Flour | | | 3326 | | | | 35 | 35 | 3 |
| Cyrodilic Cornbread | Corn, Flour | | | 3704 | | | | 35 | 40 | 4 |
| Toasted Millet Salad | Radish, Millet | | | 3704 | | | | 35 | 40 | 4 |
| Savory Thorn Cornbread | Corn, Saltrice | | | 4082 | | | | 35 | 45 | 4 |
| Dragonstar Radish Kebabs | Radish, Seasoning | | | 4082 | | | | 35 | 45 | 4 |
| Pickled Carrot Slurry | Carrots, Saltrice | | | 5065 | | | | 35 | C50 | 4 |
| Taneth Chili Cheese Corn | Corn, Cheese | | | 5670 | | | | 35 | C100 | 5 |
| The Secret Chef's Beet Crostata | Beets, Flour | | | 5670 | | | | 35 | C100 | 5 |
| Nord Warrior Potato Porridge | Potato, Millet | | | 5670 | | | | 35 | C100 | 5 |
| Hearty Garlic Corn Chowder | Corn, Garlic | | | 6048 | | | | 35 | C150 | 5 |
| Bravil's Best Beet Risotto | Beets, Saltrice | | | 6048 | | | | 35 | C150 | 5 |
| Tenmar Millet-Carrot Couscous | Carrots, Millet | | | 6048 | | | | 35 | C150 | 5 |
| Minotaur Slumgullion | Red Meat, Pumpkin, Millet | 3026 | 2769 | | | | | 60 | 35 | 3 |
| Mistral Banana-Bunny Hash | Small Game, Bananas, Seasoning | 5395 | 4936 | | | | | 60 | C150 | 5 |
| Salmon with Radish Slaw | Fish, Radish | 1052 | | 963 | | | | 60 | 10 | 2 |
| Rabbit Loin with Bitter Greens | Small Game, Greens | 1052 | | 963 | | | | 60 | 15 | 2 |
| Falkreath Meat Loaf | Game, Carrots, Cheese | 2368 | | 2167 | | | | 60 | 25 | 3 |
| Kwama Egg Omelet | Poultry, Carrots, Cheese | 5066 | | 4635 | | | | 60 | C100 | 5 |
| Silverside Perch Pudding | Fish, Beets, Millet | 5066 | | 4635 | | | | 60 | C100 | 5 |
| Sticky Pork and Radish Noodles | White Meat, Radish, Flour | 5395 | | 4936 | | | | 60 | C150 | 5 |
| Braised Rabbit with Spring Vegetables | Small Game, Greens, Seasoning | 5395 | | 4936 | | | | 60 | C150 | 5 |
| Last Seed Salad | Apples, Carrots | | 1264 | 1264 | | | | 60 | 10 | 2 |
| Mid Year Green Salad | Jazbay Grapes, Greens | | 1264 | 1264 | | | | 60 | 10 | 2 |
| Sweet Potatoes | Bananas, Potato | | 1264 | 1264 | | | | 60 | 10 | 2 |
| Melon-Radish Salad | Melon, Radish | | 1565 | 1565 | | | | 60 | 15 | 2 |
| Pumpkin Corn Fritters | Pumpkin, Corn | | 1565 | 1565 | | | | 60 | 15 | 2 |
| Tomato Borscht | Tomato, Beets | | 1565 | 1565 | | | | 60 | 15 | 2 |
| Falinesti Forbidden Fruit | Melon, Radish, Seasoning | | 1866 | 1866 | | | | 60 | 20 | 2 |
| Hearthfire Harvest Pilaf | Apples, Corn, Saltrice | | 1866 | 1866 | | | | 60 | 20 | 2 |
| Hearty Sun's Dusk Soup | Tomato, Carrots, Garlic | | 1866 | 1866 | | | | 60 | 20 | 2 |
| Apple Mashed Potatoes | Apples, Potato, Garlic | | 2167 | 2167 | | | | 60 | 25 | 3 |
| Elsweyr Corn Fritters | Jazbay Grapes, Corn, Flour | | 2167 | 2167 | | | | 60 | 25 | 3 |
| Hearthfire Vegetable Salad | Pumpkin, Beets, Saltrice | | 2167 | 2167 | | | | 60 | 25 | 3 |
| Apple-Eidar Cheese Salad | Apples, Greens, Cheese | | 2468 | 2468 | | | | 60 | 30 | 3 |
| Sun's Height Pudding | Bananas, Beets, Garlic | | 2468 | 2468 | | | | 60 | 30 | 3 |
| Sweet Dune Gnocchi | Jazbay Grapes, Potato, Flour | | 2468 | 2468 | | | | 60 | 30 | 3 |
| Blackwood Stuffed Banana Leaves | Bananas, Greens, Millet | | 2769 | 2769 | | | | 60 | 35 | 3 |
| Creamcheese Frosted Gorapple Cake | Apples, Carrots, Cheese | | 2769 | 2769 | | | | 60 | 35 | 3 |
| Forge-Wife's Spudmelon Pie | Melon, Potato, Flour | | 2769 | 2769 | | | | 60 | 35 | 3 |
| Ashlander Ochre Mash | Pumpkin, Carrots, Seasoning | | 3070 | 3070 | | | | 60 | 40 | 4 |
| Orcish No-Rhubarb Salad | Apples, Radish, Garlic | | 3070 | 3070 | | | | 60 | 40 | 4 |
| Spinner's Taboo Salad | Melon, Beets, Saltrice | | 3070 | 3070 | | | | 60 | 40 | 4 |
| Drunken Goat Cheese with Radishes | Jazbay Grapes, Radish, Cheese | | 3371 | 3371 | | | | 60 | 45 | 4 |
| Savory Banana Cornbread | Bananas, Corn, Garlic | | 3371 | 3371 | | | | 60 | 45 | 4 |
| Sun-Dried Caravan Provisions | Apples, Beets, Seasoning | | 3371 | 3371 | | | | 60 | 45 | 4 |
| Eidar Banana-Radish Vichyssoise | Bananas, Radish, Cheese | | 3732 | 3732 | | | | 60 | C10 | 4 |
| Khajiiti Apple Spanakopita | Apples, Greens, Flour | | 3732 | 3732 | | | | 60 | C10 | 4 |
| Savory Mid Year Preserves | Melon, Carrots, Garlic | | 3732 | 3732 | | | | 60 | C10 | 4 |
| Every-Morndas Casserole | Melon, Potato, Cheese | | 4153 | 4153 | | | | 60 | C50 | 4 |
| Late-Summer Corn Slaw | Pumpkin, Corn, Millet | | 4153 | 4153 | | | | 60 | C50 | 4 |
| Savory-Sweet Fried Kale | Jazbay Grapes, Greens, Garlic | | 4153 | 4153 | | | | 60 | C50 | 4 |
| Arenthia's Empty Tankard Frittata | Tomato, Potato, Garlic | | 4635 | 4635 | | | | 60 | C100 | 5 |
| Boiled Creme Treat | Pumpkin, Radish, Saltrice | | 4635 | 4635 | | | | 60 | C100 | 5 |
| Sweetroll | Bananas, Corn, Seasoning | | 4635 | 4635 | | | | 60 | C100 | 5 |
| Chevre-Radish Salad with Pumpkin Seeds | Pumpkin, Radish, Cheese | | 4936 | 4936 | | | | 60 | C150 | 5 |
| Grapes and AshYam Falafe | Jazbay Grapes, Potato, Millet | | 4936 | 4936 | | | | 60 | C150 | 5 |
| Late Hearthfire Vegetable Tart | Pumpkin, Beets, Flour | | 4936 | 4936 | | | | 60 | C150 | 5 |
| Corinthe Corn Beef | Red Meat, Bananas, Corn, Frost Miriam | 1785 | 1642 | 1642 | | | | 120 | 20 | 2 |
| Sweet Skeever Gumbo | Small Game, Apples, Beets, Frost Miriam | 2047 | 1883 | 1883 | | | | 120 | 25 | 2 |
| Riekling Suckling Bristleback | White Meat, Pumpkin, Greens, Frost Miriam | 2310 | 2125 | 2125 | | | | 120 | 30 | 3 |
| Dawnstar Sun's Dusk Chowder | Red Meat, Pumpkin, Corn, Frost Miriam | 2572 | 2366 | 2366 | | | | 120 | 35 | 3 |
| Nibenese Fricasseed Fawn | Game, Apples, Greens, Frost Miriam | 2572 | 2366 | 2366 | | | | 120 | 35 | 3 |
| Summerset Rainbow Pie | Small Game, Bananas, Beets, Frost Miriam | 2572 | 2366 | 2366 | | | | 120 | 35 | 3 |
| Vvardenfell Cliff Racer Ragout | Poultry, Tomato, Carrots, Frost Miriam | 2572 | 2366 | 2366 | | | | 120 | 35 | 3 |
| Gold Coast Mudcrab Fries | Fish, Melon, Potato, Frost Miriam | 2835 | 2608 | 2608 | | | | 120 | 40 | 4 |
| Horker Loaf | Red Meat, Melon, Corn, Frost Miriam | 2835 | 2608 | 2608 | | | | 120 | 40 | 4 |
| Stirk Pork-and-Beets | White Meat, Bananas, Beets, Frost Miriam | 2835 | 2608 | 2608 | | | | 120 | 40 | 4 |
| Twenty-Four-Raven Pie | Poultry, Jazbay Grapes, Greens, Frost Miriam | 2835 | 2608 | 2608 | | | | 120 | 40 | 4 |
| Caramelized Goat Nibbles | Game, Jazbay Grapes, Radish, Frost Miriam | 3097 | 2849 | 2849 | | | | 120 | 45 | 4 |
| Direnni Hundred-Year Rabbit Bisque | Small Game, Jazbay Grapes, Corn, Frost Miriam | 3097 | 2849 | 2849 | | | | 120 | 45 | 4 |
| Markarth Short Pig | White Meat, Apples, Potato, Frost Miriam | 3097 | 2849 | 2849 | | | | 120 | 45 | 4 |
| Parrot-and-Pumpkin Salad | Poultry, Pumpkin, Greens, Frost Miriam | 3097 | 2849 | 2849 | | | | 120 | 45 | 4 |
| Braised Sweetmeats | Red Meat, Bananas, Radish, Frost Miriam | 3412 | 3139 | 3139 | | | | 120 | C10 | 4 |
| Goatherd's Pie | Game, Melon, Beets, Frost Miriam | 3412 | 3139 | 3139 | | | | 120 | C10 | 4 |
| Planked Abecean Longfin | Fish, Apples, Beets, Frost Miriam | 3412 | 3139 | 3139 | | | | 120 | C10 | 4 |
| Slow-Simmered Rabbit Goulash | Small Game, Tomato, Carrots, Frost Miriam | 3412 | 3139 | 3139 | | | | 120 | C10 | 4 |
| Duck Soup | Poultry, Tomato, Potato, Frost Miriam | 3780 | 3477 | 3477 | | | | 120 | C50 | 4 |
| Hircine's Meat Loaf | Game, Apples, Corn, Frost Miriam | 3780 | 3477 | 3477 | | | | 120 | C50 | 4 |
| Imperial Stuffed Piglet | White Meat, Jazbay Grapes, Radish, Frost Miriam | 3780 | 3477 | 3477 | | | | 120 | C50 | 4 |
| Salmon Steak Supreme | Fish, Apples, Carrots, Frost Miriam | 3780 | 3477 | 3477 | | | | 120 | C50 | 4 |
| Potentate's Supreme Cioppino | Fish, Pumpkin, Corn, Frost Miriam | 4200 | 3864 | 3864 | | | | 120 | C100 | 5 |
| The Emperor's Venison Fricassee | Game, Melon, Carrots, Frost Miriam | 4200 | 3864 | 3864 | | | | 120 | C100 | 5 |
| The Secret Chef's Pork Roast | White Meat, Jazbay Grapes, Potato, Frost Miriam | 4200 | 3864 | 3864 | | | | 120 | C100 | 5 |
| Ultimate Riverhold Beef Pasty | Red Meat, Tomato, Radish, Frost Miriam | 4200 | 3864 | 3864 | | | | 120 | C100 | 5 |
| Capon Tomato-Beet Casserole | Poultry, Tomato, Beets, Frost Miriam | 4462 | 4105 | 4105 | | | | 120 | C150 | 6 |
| Jugged Rabbit in Preserves | Small Game, Bananas, Carrots, Frost Miriam | 4462 | 4105 | 4105 | | | | 120 | C150 | 6 |
| Longfin Pasty with Melon Sauce | Fish, Melon, Greens, Frost Miriam | 4462 | 4105 | 4105 | | | | 120 | C150 | 6 |
| Withered Tree Inn Venison Pot Roast | Game, Apples, Carrots, Frost Miriam | 4462 | 4105 | 4105 | | | | 120 | C150 | 6 |
| Sweet Sanguine Apples | Apples, Honey | | 5320 | | | | | 120 | 0 | 1 |
| Old Aldmeri Orphan Gruel | Barley, Rose, Pumpkin | | 5320 | | | | | 120 | 1 | 1 |
| Rajhin's Sugar Claws | Honey, Corn, Flour | | | 5320 | | | | 120 | 1 | 1 |
| Alcair Festival Sword-Pie | Red Meat, Seasoning, Flour | 5852 | | | | | | 120 | 1 | 1 |
| Princess Delight | Flour, Apples, Butterfly Wing | | 5320 | | | | | 120 | 0 | 1 |
| Jagga-Drenched "Mud Ball" | Coffee, Flour, Seasoning, Cheese | | 4575 | 4575 | | | | 120 | 0 | 1 |
| Lava Foot Soup-and-Saltrice | Saltrice, Flour, Potato, Scrib Jelly | | | 4575 | | | 457 | 120 | 0 | 1 |
| Crisp and Crunchy Pumpkin Snacks Skewer | Pumpkin, Potato, Flour, Small Game | | 4256 | 4256 | | | | 120 | 0 | 1 |
| Crunchy Spider Skewer | Spider Egg, Crawlers, Acai Berry, Seasoning | | 4256 | | | | 425 | 120 | 0 | 1 |
| Frosted Brains | White Meat, Honey, Stinkhorn, Yeast | | 4256 | | 468 | | | 120 | 0 | 1 |
| Orzoga's Blood Price Pie | Red Meat, Potato, Violet Coprinus, Guts | 5000 | | | 500 | | | 120 | 0 | 1 |
| Orzoga's Tripe Trifle Pocket | Guts, Columbine, Beets, White Meat | 5000 | | | | | 457 | 120 | 0 | 1 |
| Candied Jester's Coins | Flour, Coffee, Imp Stool, Bervez Juice | | | 4256 | | 425 | | 120 | 0 | 1 |
| Jewels of Misrule | Rose, Mint, Lotus, Columbine, Bervez Juice | 3511 | | | | 319 | 319 | 120 | 0 | 1 |
| Orzorga's Smoked Bear Haunch | Perfect Roe, Tomato, White Cap, Frost Mirriam, Red Meat | 3724 | | | 351 | 319 | 319 | 120 | 0 | 1 |
| Nut Brown Ale | Barley | | | | 74 | | | 35 | 1 | 1 |
| Red Rye Beer | Rye | | | | 74 | | | 35 | 1 | 1 |
| Bog-Iron Ale | Yeast | | | | 115 | | | 35 | 5 | 1 |
| Mazte | Rice | | | | 115 | | | 35 | 5 | 1 |
| Surilie Syrah Wine | Surilie Grapes | | | | 115 | | | 35 | 5 | 1 |
| Four-Eye Grog | Wheat, Seaweed | | | | 115 | | | 35 | 10 | 2 |
| Lemon Flower Mazte | Rice, Lemon | | | | 115 | | | 35 | 10 | 2 |
| Tawny Port | Yeast, Metheglin | | | | 198 | | | 35 | 15 | 2 |
| Red Hippocras | Surilie Grapes, Ginger | | | | 198 | | | 35 | 15 | 2 |
| Old Clear-Eye Whiskey | Barley, Isinglass | | | | 198 | | | 35 | 15 | 2 |
| Barley Nectar | Barley, Honey | | | | 239 | | | 35 | 20 | 2 |
| Mermaid Whiskey | Barley, Seaweed | | | | 280 | | | 35 | 25 | 3 |
| Ginger Wheat Beer | Wheat, Ginger | | | | 280 | | | 35 | 25 | 3 |
| Spiced Mazte | Rice, Ginger | | | | 322 | | | 35 | 30 | 3 |
| Sorry, Honey Lager | Wheat, Honey | | | | 363 | | | 35 | 35 | 3 |
| Sweet Scamp Mazte | Rice, Honey | | | | 446 | | | 35 | 45 | 4 |
| Arenthian Brandy | Surilie Grapes, Lemon | | | | 553 | | | 35 | C50 | 4 |
| Alabaster Honey Rum | Yeast, Honey | | | | 619 | | | 35 | C100 | 5 |
| Crystal Tower Whiskey | Rye, Isinglass | | | | 619 | | | 35 | C100 | 5 |
| Palace of Kings Ginger Beer | Barley, Ginger | | | | 619 | | | 35 | C100 | 5 |
| Kragenmoor Zinger Mazte | Rice, Metheglin | | | | 660 | | | 35 | C150 | 5 |
| Colovian Ginger Beer | Yeast, Ginger | | | | 660 | | | 35 | C150 | 5 |
| Markarth Mead | Barley, Metheglin | | | | 660 | | | 35 | C150 | 5 |
| Jasmine Tea | Jasmine | | | | | 68 | | 35 | 1 | 1 |
| Mint Chai | Mint | | | | | 68 | | 35 | 1 | 1 |
| Rose Herbal Tea | Rose | | | | | 68 | | 35 | 1 | 1 |
| Bitter Tea | Bittergreen | | | | | 105 | | 35 | 5 | 1 |
| Comberry Chai | Comberry | | | | | 105 | | 35 | 5 | 1 |
| Morning Reveille Tea | Mint, Ginger | | | | | 143 | | 35 | 10 | 2 |
| Sourflower Tea | Lotus, Lemon | | | | | 181 | | 35 | 15 | 2 |
| Green Scourgut Tea | Bittergreen, Seaweed | | | | | 181 | | 35 | 15 | 2 |
| Gingerose Tea | Rose, Ginger | | | | | 181 | | 35 | 15 | 2 |
| Seaflower Tea | Lotus, Seaweed | | | | | 219 | | 35 | 20 | 2 |
| Enlightenment Tea | Lotus, Isinglass | | | | | 257 | | 35 | 25 | 3 |
| Mead de Menthe | Mint, Metheglin | | | | | 257 | | 35 | 25 | 3 |
| Spiceberry Chai | Comberry, Ginger | | | | | 294 | | 35 | 30 | 3 |
| Winter Rose Tea | Rose, Isinglass | | | | | 332 | | 35 | 35 | 3 |
| Pink Profundity | Jasmine, Isinglass | | | | | 332 | | 35 | 35 | 3 |
| Sweet Slaughterfish Tea | Comberry, Seaweed | | | | | 370 | | 35 | 40 | 4 |
| Khenarthi's Wings Chai | Jasmine, Honey | | | | | 506 | | 35 | C50 | 4 |
| Comberry Citrus Quencher | Comberry, Lemon | | | | | 567 | | 35 | C100 | 5 |
| Pirate Queen Mint Tea | Mint, Seaweed | | | | | 567 | | 35 | C100 | 5 |
| Falkreath Rosy Mead | Rose, Metheglin | | | | | 567 | | 35 | C100 | 5 |
| Heart's Day Rose Tea | Rose, Honey | | | | | 604 | | 35 | C150 | 5 |
| Soothing Bard's-Throat Tea | Jasmine, Lemon | | | | | 604 | | 35 | C150 | 5 |
| Muthsera's Remorse | Bittergreen, Metheglin | | | | | 604 | | 35 | C150 | 5 |
| Ginkgo Tonic | Ginkgo | | | | | | 68 | 35 | 1 | 1 |
| Acai Tonic Infusion | Acai Berry | | | | | | 68 | 35 | 1 | 1 |
| Ginseng Tonic | Ginseng | | | | | | 105 | 35 | 5 | 1 |
| Mate Infusion | Yerba Mate | | | | | | 105 | 35 | 5 | 1 |
| Tonsil Tingle Tonic | Ginkgo, Honey | | | | | | 143 | 35 | 10 | 2 |
| Yellow Goblin Tonic | Ginseng, Lemon | | | | | | 143 | 35 | 10 | 2 |
| Isinmate Infusion | Yerba Mate, Isinglass | | | | | | 181 | 35 | 15 | 2 |
| Kelp Kaveh | Coffee, Seaweed | | | | | | 181 | 35 | 15 | 2 |
| Sweetberry Tonic | Acai Berry, Honey | | | | | | 181 | 35 | 15 | 2 |
| Taneth Coffee | Coffee, Honey | | | | | | 219 | 35 | 20 | 2 |
| Ginkgo Twist Tonic | Ginkgo, Metheglin | | | | | | 219 | 35 | 20 | 2 |
| Athlete's Guzzle | Acai Berry, Lemon | | | | | | 257 | 35 | 25 | 3 |
| Dancing Grandma | Ginkgo, Isinglass | | | | | | 294 | 35 | 30 | 3 |
| Blue Road Marathon | Guarana, Isinglass | | | | | | 370 | 35 | 40 | 4 |
| Shimmerene Tonic | Acai Berry, Isinglass | | | | | | 408 | 35 | 45 | 4 |
| Dreug Spit | Ginseng, Seaweed | | | | | | 408 | 35 | 45 | 4 |
| Sipping Imga Tonic | Ginkgo, Lemon | | | | | | 506 | 35 | C50 | 4 |
| Hasphat's Sticky Guar Tonic | Guarana, Honey | | | | | | 567 | 35 | C100 | 5 |
| Nocturnal's Everblack Coffee | Coffee, Isinglass | | | | | | 567 | 35 | C100 | 5 |
| Fyr's Hyperagonal Potation | Acai Berry, Ginger | | | | | | 567 | 35 | C100 | 5 |
| Freda's Night Infusion | Guarana, Metheglin | | | | | | 604 | 35 | C150 | 5 |
| Old Hegathe Lemon Kaveh | Coffee, Lemon | | | | | | 604 | 35 | C150 | 5 |
| Hagraven's Tonic | Ginkgo, Ginger | | | | | | 604 | 35 | C150 | 5 |
| Cloudrest Golden Ale | Yeast, Lotus | | | | 105 | 96 | | 60 | 10 | 2 |
| Spriggan Sap | Rye, Lotus, Lemon | | | | 236 | 216 | | 60 | 25 | 3 |
| Saint Pelin's Tawny Port | Yeast, Rose, Lemon | | | | 506 | 463 | | 60 | C100 | 5 |
| Yokudan Sorrow Bourbon | Rye, Lotus, Seaweed | | | | 506 | 463 | | 60 | C100 | 5 |
| Clavicus Vines Chenin Blanc | Surilie Grapes, Jasmine, Metheglin | | | | 506 | 463 | | 60 | C100 | 5 |
| Port Hunding Pinot Noir | Surilie Grapes, Mint, Seaweed | | | | 539 | 493 | | 60 | C150 | 5 |
| Dragontail Blended Whiskey | Rye, Lotus, Honey | | | | 539 | 493 | | 60 | C150 | 5 |
| Bravil Bitter Barley Beer | Barley, Bittergreen, Ginger | | | | 539 | 493 | | 60 | C150 | 5 |
| Stendarr's Vigilance Ginger Ale | Barley, Coffee, Ginger | | | | 506 | | 463 | 60 | C100 | 5 |
| Wide-Eye Double Rye | Rye, Ginseng, Isinglass | | | | 539 | | 493 | 60 | C150 | 5 |
| Camlorn Sweet Brown Ale | Barley, Acai Berry, Metheglin | | | | 539 | | 493 | 60 | C150 | 5 |
| Flowing Bowl Green Port | Surilie Grapes, Yerba Mate, Seaweed | | | | 539 | | 493 | 60 | C150 | 5 |
| Lillandril Tonic Tea | Jasmine, Ginkgo | | | | | 126 | 126 | 60 | 10 | 2 |
| Comberry Tonic | Comberry, Guarana | | | | | 156 | 156 | 60 | 15 | 2 |
| Balfiera Herbal Tonic | Comberry, Ginseng, Lemon | | | | | 463 | 463 | 60 | C100 | 5 |
| Mint Mudcrab Mojito | Mint, Guarana, Seaweed | | | | | 463 | 463 | 60 | C100 | 5 |
| Tonal Architect Tonic | Bittergreen, Acai Berry, Metheglin | | | | | 463 | 463 | 60 | C100 | 5 |
| Honest Lassie Herbal Tea | Comberry, Ginseng, Honey | | | | | 493 | 493 | 60 | C100 | 5 |
| Greef | Yeast, Mint, Guarana, Bervez Juice | | | | 178 | 164 | 164 | 120 | 20 | 2 |
| Red Queen's Eye-Opener | Surilie Grapes, Jasmine, Coffee, Bervez Juice | | | | 204 | 188 | 188 | 120 | 25 | 2 |
| Aqua Vitae | Rye, Comberry, Yerba Mate, Bervez Juice | | | | 231 | 212 | 212 | 120 | 30 | 3 |
| Abecean Brandy | Surilie Grapes, Mint, Acai Berry, Bervez Juice | | | | 257 | 236 | 236 | 120 | 35 | 3 |
| Enemies Explode | Yeast, Comberry, Guarana, Bervez Juice | | | | 257 | 236 | 236 | 120 | 35 | 3 |
| Monkeypants Mazte | Rice, Jasmine, Yerba Mate, Bervez Juice | | | | 257 | 236 | 236 | 120 | 35 | 3 |
| Seven Year Beer | Wheat, Bittergreen, Ginkgo, Bervez Juice | | | | 257 | 236 | 236 | 120 | 35 | 3 |
| Hopscotch | Rye, Mint, Coffee, Bervez Juice | | | | 283 | 260 | 260 | 120 | 40 | 4 |
| Ten-Foot Beer | Yeast, Lotus, Guarana, Bervez Juice | | | | 283 | 260 | 260 | 120 | 40 | 4 |
| Tranquility Pale Ale | Barley, Lotus, Acai Berry, Bervez Juice | | | | 283 | 260 | 260 | 120 | 40 | 4 |
| Vaermina's Nightmare | Rye, Jasmine, Yerba Mate, Bervez Juice | | | | 283 | 260 | 260 | 120 | 40 | 4 |
| Berveza Vitae | Wheat, Comberry, Yerba Mate, Bervez Juice | | | | 309 | 284 | 284 | 120 | 45 | 4 |
| Fifth Legion Porter | Wheat, Rose, Ginseng, Bervez Juice | | | | 309 | 284 | 284 | 120 | 45 | 4 |
| Orsinium Pink Zinfandel | Surilie Grapes, Rose, Guarana, Bervez Juice | | | | 309 | 284 | 284 | 120 | 45 | 4 |
| Rude Awakening | Rice, Rose, Coffee, Bervez Juice | | | | 309 | 284 | 284 | 120 | 45 | 4 |
| Animate-the-Dead | Yeast, Mint, Ginseng, Bervez Juice | | | | 341 | 313 | 313 | 120 | C10 | 4 |
| Cardiac Arrest | Rice, Lotus, Coffee, Bervez Juice | | | | 341 | 313 | 313 | 120 | C10 | 4 |
| Qhalua Liqueur | Barley, Jasmine, Coffee, Bervez Juice | | | | 341 | 313 | 313 | 120 | C10 | 4 |
| Xanmeer Brandy | Surilie Grapes, Bittergreen, Ginkgo, Bervez Juice | | | | 341 | 313 | 313 | 120 | C10 | 4 |
| Hello Handsome Porter | Barley, Jasmine, Ginkgo, Bervez Juice | | | | 378 | 347 | 347 | 120 | C50 | 4 |
| High Rock Rose and Rye | Rye, Rose, Ginseng, Bervez Juice | | | | 378 | 347 | 347 | 120 | C50 | 4 |
| Kagouti Kick Mazte | Rice, Jasmine, Guarana, Bervez Juice | | | | 378 | 347 | 347 | 120 | C50 | 4 |
| Malacath's Hammer | Wheat, Bittergreen, Acai Berry, Bervez Juice | | | | 378 | 347 | 347 | 120 | C50 | 4 |
| Numidium Brandy | Rice, Lotus, Ginkgo, Bervez Juice | | | | 420 | 386 | 386 | 120 | C100 | 5 |
| Rislav's Righteous Red Kvass | Rye, Rose, Acai Berry, Bervez Juice | | | | 420 | 386 | 386 | 120 | C100 | 5 |
| Tears of Joy | Yeast, Bittergreen, Ginseng, Bervez Juice | | | | 420 | 386 | 386 | 120 | C100 | 5 |
| Ysgramor's Harbinger Lager | Barley, Comberry, Guarana, Bervez Juice | | | | 420 | 386 | 386 | 120 | C100 | 5 |
| Lusty Argonian Maid Mazte | Rice, Jasmine, Ginkgo, Bervez Juice | | | | 446 | 410 | 410 | 120 | C150 | 6 |
| Orcrest Agony Pale Ale | Barley, Lotus, Yerba Mate, Bervez Juice | | | | 446 | 410 | 410 | 120 | C150 | 6 |
| Senche-Tiger Single Malt | Wheat, Bittergreen, Coffee, Bervez Juice | | | | 446 | 410 | 410 | 120 | C150 | 6 |
| Velothi View Vintage Malbec | Surilie Grapes, Mint, Ginkgo, Bervez Juice | | | | 446 | 410 | 410 | 120 | C150 | 6 |
| Snow Bear Glow-Wine | Jazbay Grapes, Yeast, Honey | | | | | | 532 | 120 | 1 | 1 |
| Orzorga's Red Frothgar | Clear Water, Comberry, Honey, Mint | 5000 | | | | 457 | | 120 | 0 | 1 |
| Betnikh Twice-Spiked Ale | Barley, Yeast, Rice, Honey | | | | 500 | 457 | | 120 | 0 | 1 |
| Bergama Warning Fire | Coffee, Yerba Mate, Dragonthorn, Lotus | | | 4575 | 500 | | | 120 | 0 | 1 |
| Ghastly Eye Bowl | Worms, Fleshfly Larva, Bananas, Rose | | 4256 | | | 425 | | 120 | 0 | 1 |
| Bowl of "Peeled Eyeballs" | Jazbay Grapes, Seasoning, Flour, Surilie Grapes | | | | 468 | 425 | | 120 | 0 | 1 |
| Witchmother's Potent Brew | Nightshade, Bervez Juice, Rice, Small Game | 3511 | | 3192 | | 319 | | 120 | 0 | 1 |
| Witchmother's Party Punch | Bervez Juice, Rye, Lotus, Lemon | | | | 351 | 319 | 319 | 120 | 0 | 1 |
| Dubious Camoran Throne | White Meat, Beetle Scuttle, Insect Parts, Guts | 3511 | | 3192 | | | 319 | 120 | 0 | 1 |
| Double Bloody Mara | Nirnroot, Tomato, Daedra Heart, Frost Mirriam | 5054 | 4575 | | | | | 120 | 0 | 1 |
| Hissmir Fish-Eye Rye | Fish, Rye, Corn Flower, Lemon, Bervez Juice | | | | | 457 | 457 | 120 | 0 | 1 |
[
edit this tab
]
| Recipe | Max Health | Max Magicka | Max Stamina | Health Regen | Magicka Regen | Stamina Regen | Time (min) | Level | Value |
| --- | --- | --- | --- | --- | --- | --- | --- | --- | --- |
| Meat Dishes | 743 | | | | | | 35 | 1 | 1 |
| Meat Dishes | 1156 | | | | | | 35 | 5 | 1 |
| Meat Dishes | 1569 | | | | | | 35 | 10 | 2 |
| Meat Dishes | 1982 | | | | | | 35 | 15 | 2 |
| Meat Dishes | 2395 | | | | | | 35 | 20 | 2 |
| Meat Dishes | 2808 | | | | | | 35 | 25 | 2 |
| Meat Dishes | 3221 | | | | | | 35 | 30 | 3 |
| Meat Dishes | 3634 | | | | | | 35 | 35 | 3 |
| Meat Dishes | 4047 | | | | | | 35 | 40 | 4 |
| Meat Dishes | 4460 | | | | | | 35 | 45 | 4 |
| Meat Dishes | 4956 | | | | | | 35 | C10 | 4 |
| Meat Dishes | 5534 | | | | | | 35 | C50 | 4 |
| Meat Dishes | 6195 | | | | | | 35 | C100 | 5 |
| Meat Dishes | 6608 | | | | | | 35 | C150 | 5 |
| Fruit Dishes | | 680 | | | | | 35 | 1 | 1 |
| Fruit Dishes | | 1058 | | | | | 35 | 5 | 1 |
| Fruit Dishes | | 1436 | | | | | 35 | 10 | 2 |
| Fruit Dishes | | 1814 | | | | | 35 | 15 | 2 |
| Fruit Dishes | | 2192 | | | | | 35 | 20 | 2 |
| Fruit Dishes | | 2570 | | | | | 35 | 25 | 2 |
| Fruit Dishes | | 2948 | | | | | 35 | 30 | 3 |
| Fruit Dishes | | 3326 | | | | | 35 | 35 | 3 |
| Fruit Dishes | | 3704 | | | | | 35 | 40 | 4 |
| Fruit Dishes | | 4082 | | | | | 35 | 45 | 4 |
| Fruit Dishes | | 4536 | | | | | 35 | C10 | 4 |
| Fruit Dishes | | 5065 | | | | | 35 | C50 | 4 |
| Fruit Dishes | | 5670 | | | | | 35 | C100 | 5 |
| Fruit Dishes | | 6048 | | | | | 35 | C150 | 5 |
| Vegetable Dishes | | | 680 | | | | 35 | 1 | 1 |
| Vegetable Dishes | | | 1058 | | | | 35 | 5 | 1 |
| Vegetable Dishes | | | 1436 | | | | 35 | 10 | 2 |
| Vegetable Dishes | | | 1814 | | | | 35 | 15 | 2 |
| Vegetable Dishes | | | 2192 | | | | 35 | 20 | 2 |
| Vegetable Dishes | | | 2570 | | | | 35 | 25 | 3 |
| Vegetable Dishes | | | 2570 | | | | 35 | 30 | 3 |
| Vegetable Dishes | | | 3326 | | | | 35 | 35 | 3 |
| Vegetable Dishes | | | 3704 | | | | 35 | 40 | 4 |
| Vegetable Dishes | | | 4082 | | | | 35 | 45 | 4 |
| Vegetable Dishes | | | 4536 | | | | 35 | C10 | 4 |
| Vegetable Dishes | | | 5065 | | | | 35 | C50 | 4 |
| Vegetable Dishes | | | 5670 | | | | 35 | C100 | 5 |
| Vegetable Dishes | | | 6048 | | | | 35 | C150 | 5 |
| Savouries | 1381 | 1264 | | | | | 60 | 10 | 2 |
| Savouries | 1710 | 1565 | | | | | 60 | 15 | 2 |
| Savouries | 2039 | 1866 | | | | | 60 | 20 | 2 |
| Savouries | 2368 | 2167 | | | | | 60 | 25 | 2 |
| Savouries | 2697 | 2468 | | | | | 60 | 30 | 3 |
| Savouries | 3026 | 2769 | | | | | 60 | 35 | 3 |
| Savouries | 3355 | 3070 | | | | | 60 | 40 | 4 |
| Savouries | 3684 | 3371 | | | | | 60 | 45 | 4 |
| Savouries | 4079 | 3732 | | | | | 60 | C10 | 4 |
| Savouries | 4540 | 4153 | | | | | 60 | C50 | 4 |
| Savouries | 5066 | 4635 | | | | | 60 | C100 | 5 |
| Savouries | 5395 | 4936 | | | | | 60 | C150 | 5 |
| Ragout | 1381 | | 1264 | | | | 60 | 10 | 2 |
| Ragout | 1710 | | 1565 | | | | 60 | 15 | 2 |
| Ragout | 2039 | | 1866 | | | | 60 | 20 | 2 |
| Ragout | 2368 | | 2167 | | | | 60 | 25 | 2 |
| Ragout | 2697 | | 2468 | | | | 60 | 30 | 3 |
| Ragout | 3026 | | 2769 | | | | 60 | 35 | 3 |
| Ragout | 3355 | | 3070 | | | | 60 | 40 | 4 |
| Ragout | 3684 | | 3371 | | | | 60 | 45 | 4 |
| Ragout | 4079 | | 3732 | | | | 60 | C10 | 4 |
| Ragout | 4540 | | 4153 | | | | 60 | C50 | 4 |
| Ragout | 5066 | | 4635 | | | | 60 | C100 | 5 |
| Ragout | 5395 | | 4936 | | | | 60 | C150 | 5 |
| Entremet | | 1264 | 1264 | | | | 60 | 10 | 2 |
| Entremet | | 1565 | 1565 | | | | 60 | 15 | 2 |
| Entremet | | 1866 | 1866 | | | | 60 | 20 | 2 |
| Entremet | | 2167 | 2167 | | | | 60 | 25 | 2 |
| Entremet | | 2468 | 2468 | | | | 60 | 30 | 3 |
| Entremet | | 2769 | 2769 | | | | 60 | 35 | 3 |
| Entremet | | 3070 | 3070 | | | | 60 | 40 | 4 |
| Entremet | | 3371 | 3371 | | | | 60 | 45 | 4 |
| Entremet | | 3732 | 3732 | | | | 60 | C10 | 4 |
| Entremet | | 4153 | 4153 | | | | 60 | C50 | 4 |
| Entremet | | 4635 | 4635 | | | | 60 | C100 | 5 |
| Entremet | | 4936 | 4936 | | | | 60 | C150 | 5 |
| Gourmet | 1785 | 1642 | 1642 | | | | 120 | 20 | 2 |
| Gourmet | 2047 | 1883 | 1883 | | | | 120 | 25 | 2 |
| Gourmet | 2310 | 2125 | 2125 | | | | 120 | 30 | 3 |
| Gourmet | 2572 | 2366 | 2366 | | | | 120 | 35 | 3 |
| Gourmet | 2835 | 2608 | 2608 | | | | 120 | 40 | 4 |
| Gourmet | 3097 | 2849 | 2849 | | | | 120 | 45 | 4 |
| Gourmet | 3412 | 3139 | 3139 | | | | 120 | C10 | 4 |
| Gourmet | 3780 | 3477 | 3477 | | | | 120 | C50 | 4 |
| Gourmet | 4200 | 3864 | 3864 | | | | 120 | C100 | 5 |
| Gourmet | 4462 | 4105 | 4105 | | | | 120 | C150 | 6 |
| Alcair Festival Sword-Pie | 5852 | | | | | | 120 | 1 | 1 |
| Old Aldmeri Orphan Gruel | | 5320 | | | | | 120 | 1 | 1 |
| Princess Delight | | 5320 | | | | | 120 | 0 | 1 |
| Sweet Sanguine Apples | | 5320 | | | | | 120 | 0 | 1 |
| Rajhin's Sugar Claws | | | 5320 | | | | 120 | 1 | 1 |
| Crisp and Crunchy Pumpkin Snacks Skewer | | 4256 | 4256 | | | | 120 | 0 | 1 |
| Jagga-Drenched "Mud Ball" | | 4575 | 4575 | | | | 120 | 0 | 1 |
| Orzoga's Blood Price Pie | 5000 | | | 500 | | | 120 | 0 | 1 |
| Orzoga's Tripe Trifle Pocket | 5000 | | | | | 457 | 120 | 0 | 1 |
| Frosted Brains | | 4256 | | 468 | | | 120 | 0 | 1 |
| Crunchy Spider Skewer | | 4256 | | | | 425 | 120 | 0 | 1 |
| Candied Jester's Coins | | | 4256 | | 425 | | 120 | 0 | 1 |
| Lava Foot Soup-and-Saltrice | | | 4575 | | | 457 | 120 | 0 | 1 |
| Deregulated Mushroom Stew | | | | 500 | 457 | | 120 | 0 | 1 |
| Jewels of Misrule | 3511 | | | | 319 | 319 | 120 | 0 | 1 |
| Clockwork Citrus Filet | 3724 | 3458 | | 351 | 319 | | 120 | 0 | 1 |
| Orzorga's Smoked Bear Haunch | 3724 | | | 351 | 319 | 319 | 120 | 0 | 1 |
| Alcoholic Drinks | | | | 74 | | | 35 | 1 | 1 |
| Alcoholic Drinks | | | | 115 | | | 35 | 5 | 1 |
| Alcoholic Drinks | | | | 115 | | | 35 | 10 | 2 |
| Alcoholic Drinks | | | | 198 | | | 35 | 15 | 2 |
| Alcoholic Drinks | | | | 239 | | | 35 | 20 | 2 |
| Alcoholic Drinks | | | | 280 | | | 35 | 25 | 3 |
| Alcoholic Drinks | | | | 322 | | | 35 | 30 | 3 |
| Alcoholic Drinks | | | | 363 | | | 35 | 35 | 3 |
| Alcoholic Drinks | | | | 446 | | | 35 | 45 | 4 |
| Alcoholic Drinks | | | | 553 | | | 35 | C50 | 4 |
| Alcoholic Drinks | | | | 619 | | | 35 | C100 | 5 |
| Alcoholic Drinks | | | | 660 | | | 35 | C150 | 5 |
| Tea | | | | | 68 | | 35 | 1 | 1 |
| Tea | | | | | 105 | | 35 | 5 | 1 |
| Tea | | | | | 143 | | 35 | 10 | 2 |
| Tea | | | | | 181 | | 35 | 15 | 2 |
| Tea | | | | | 219 | | 35 | 20 | 2 |
| Tea | | | | | 257 | | 35 | 25 | 3 |
| Tea | | | | | 294 | | 35 | 30 | 3 |
| Tea | | | | | 332 | | 35 | 35 | 3 |
| Tea | | | | | 370 | | 35 | 40 | 4 |
| Tea | | | | | 506 | | 35 | C50 | 4 |
| Tea | | | | | 567 | | 35 | C100 | 5 |
| Tea | | | | | 604 | | 35 | C150 | 5 |
| Tonics | | | | | | 68 | 35 | 1 | 1 |
| Tonics | | | | | | 105 | 35 | 5 | 1 |
| Tonics | | | | | | 143 | 35 | 10 | 2 |
| Tonics | | | | | | 181 | 35 | 15 | 2 |
| Tonics | | | | | | 219 | 35 | 20 | 2 |
| Tonics | | | | | | 257 | 35 | 25 | 3 |
| Tonics | | | | | | 294 | 35 | 30 | 3 |
| Tonics | | | | | | 370 | 35 | 40 | 4 |
| Tonics | | | | | | 408 | 35 | 45 | 4 |
| Tonics | | | | | | 506 | 35 | C50 | 4 |
| Tonics | | | | | | 567 | 35 | C100 | 5 |
| Tonics | | | | | | 604 | 35 | C150 | 5 |
| Liqueurs | | | | 138 | 126 | | 60 | 10 | 2 |
| Liqueurs | | | | 171 | 156 | | 60 | 15 | 2 |
| Liqueurs | | | | 203 | 186 | | 60 | 20 | 2 |
| Liqueurs | | | | 236 | 216 | | 60 | 25 | 2 |
| Liqueurs | | | | 269 | 246 | | 60 | 30 | 3 |
| Liqueurs | | | | 302 | 276 | | 60 | 35 | 3 |
| Liqueurs | | | | 335 | 307 | | 60 | 40 | 4 |
| Liqueurs | | | | 368 | 337 | | 60 | 45 | 4 |
| Liqueurs | | | | 407 | 373 | | 60 | C10 | 4 |
| Liqueurs | | | | 454 | 415 | | 60 | C50 | 4 |
| Liqueurs | | | | 506 | 463 | | 60 | C100 | 5 |
| Liqueurs | | | | 539 | 493 | | 60 | C150 | 5 |
| Tinctures | | | | 138 | | 126 | 60 | 10 | 2 |
| Tinctures | | | | 171 | | 156 | 60 | 15 | 2 |
| Tinctures | | | | 203 | | 186 | 60 | 20 | 2 |
| Tinctures | | | | 236 | | 216 | 60 | 25 | 2 |
| Tinctures | | | | 269 | | 246 | 60 | 30 | 3 |
| Tinctures | | | | 302 | | 276 | 60 | 35 | 3 |
| Tinctures | | | | 335 | | 307 | 60 | 40 | 4 |
| Tinctures | | | | 368 | | 337 | 60 | 45 | 4 |
| Tinctures | | | | 407 | | 373 | 60 | C10 | 4 |
| Tinctures | | | | 454 | | 415 | 60 | C50 | 4 |
| Tinctures | | | | 506 | | 463 | 60 | C100 | 5 |
| Tinctures | | | | 539 | | 493 | 60 | C150 | 5 |
| Cordial Teas | | | | | 126 | 126 | 60 | 10 | 2 |
| Cordial Teas | | | | | 156 | 156 | 60 | 15 | 2 |
| Cordial Teas | | | | | 186 | 186 | 60 | 20 | 2 |
| Cordial Teas | | | | | 216 | 216 | 60 | 25 | 2 |
| Cordial Teas | | | | | 246 | 246 | 60 | 30 | 3 |
| Cordial Teas | | | | | 276 | 276 | 60 | 35 | 3 |
| Cordial Teas | | | | | 307 | 307 | 60 | 40 | 4 |
| Cordial Teas | | | | | 337 | 337 | 60 | 45 | 4 |
| Cordial Teas | | | | | 373 | 373 | 60 | C10 | 4 |
| Cordial Teas | | | | | 415 | 415 | 60 | C50 | 4 |
| Cordial Teas | | | | | 463 | 463 | 60 | C100 | 5 |
| Cordial Teas | | | | | 493 | 493 | 60 | C150 | 5 |
| Distillates | | | | 178 | 164 | 164 | 120 | 20 | 2 |
| Distillates | | | | 204 | 188 | 188 | 120 | 25 | 2 |
| Distillates | | | | 231 | 212 | 212 | 120 | 30 | 3 |
| Distillates | | | | 257 | 236 | 236 | 120 | 35 | 3 |
| Distillates | | | | 283 | 260 | 260 | 120 | 40 | 4 |
| Distillates | | | | 309 | 284 | 284 | 120 | 45 | 4 |
| Distillates | | | | 341 | 313 | 313 | 120 | C10 | 4 |
| Distillates | | | | 378 | 347 | 347 | 120 | C50 | 4 |
| Distillates | | | | 420 | 386 | 386 | 120 | C100 | 5 |
| Distillates | | | | 446 | 410 | 410 | 120 | C150 | 6 |
| Snow Bear Glow-Wine | | | | | | 532 | 120 | 1 | 1 |
| Orzorga's Red Frothgar | 5000 | | | | 457 | | 120 | 0 | 1 |
| Ghastly Eye Bowl | | 4256 | | | 425 | | 120 | 0 | 1 |
| Bergama Warning Fire | | | 4575 | 500 | | | 120 | 0 | 1 |
| Betnikh Twice-Spiked Ale | | | | 500 | 457 | | 120 | 0 | 1 |
| Bowl of "Peeled Eyeballs" | | | | 468 | 425 | | 120 | 0 | 1 |
| Spring-Loaded Infusion | 3724 | 3458 | 3458 | | | | 120 | 0 | 1 |
| Witchmother's Potent Brew | 3511 | 3192 | | | 319 | | 120 | 0 | 1 |
| Dubious Camoran Throne | 3511 | | 3192 | | | 319 | 120 | 0 | 1 |
| Witchmother's Party Punch | | | | 351 | 319 | 319 | 120 | 0 | 1 |
| Double Bloody Mara | 5054 | 4575 | | | | | 120 | 0 | 1 |
| Hissmir Fish-Eye Rye | | | | | 457 | 457 | 120 | 0 | 1 |
[
edit this tab
]
| Recipe | Max Health | Max Magicka | Max Stamina | Health Regen | Magicka Regen | Stamina Regen | Time (min) | Level | Value |
| --- | --- | --- | --- | --- | --- | --- | --- | --- | --- |
| Meat Dishes | 6608 | | | | | | 35 | C150 | 5 |
| Fruit Dishes | | 6048 | | | | | 35 | C150 | 5 |
| Vegetable Dishes | | | 6048 | | | | 35 | C150 | 5 |
| Savouries | 5395 | 4936 | | | | | 60 | C150 | 5 |
| Ragout | 5395 | | 4936 | | | | 60 | C150 | 5 |
| Entremet | | 4936 | 4936 | | | | 60 | C150 | 5 |
| Gourmet | 4462 | 4105 | 4105 | | | | 120 | C150 | 6 |
| Alcoholic Drinks | | | | 660 | | | 35 | C150 | 5 |
| Tea | | | | | 604 | | 35 | C150 | 5 |
| Tonics | | | | | | 604 | 35 | C150 | 5 |
| Liqueurs | | | | 539 | 493 | | 60 | C150 | 5 |
| Tinctures | | | | 539 | | 493 | 60 | C150 | 5 |
| Cordial Teas | | | | | 493 | 493 | 60 | C150 | 5 |
| Distillates | | | | 446 | 410 | 410 | 120 | C150 | 5 |
| Alcair Festival Sword-Pie | 5852 | | | | | | 120 | 1 | 1 |
| Sweet Sanguine Apples | | 5320 | | | | | 120 | 0 | 1 |
| Old Aldmeri Orphan Gruel | | 5320 | | | | | 120 | 1 | 1 |
| Princess Delight | | 5320 | | | | | 120 | 0 | 1 |
| Rajhin's Sugar Claws | | | 5320 | | | | 120 | 1 | 1 |
| Snow Bear Glow-Wine | | | | | | 532 | 120 | 1 | 1 |
| Orzoga's Blood Price Pie | 5000 | | | 500 | | | 120 | 0 | 1 |
| Orzorga's Red Frothgar | 5000 | | | | 457 | | 120 | 0 | 1 |
| Orzoga's Tripe Trifle Pocket | 5000 | | | | | 457 | 120 | 0 | 1 |
| Jagga-Drenched "Mud Ball" | | 4575 | 4575 | | | | 120 | 0 | 1 |
| Crisp and Crunchy Pumpkin Snacks Skewer | | 4256 | 4256 | | | | 120 | 0 | 1 |
| Frosted Brains | | 4256 | | 468 | | | 120 | 0 | 1 |
| Ghastly Eye Bowl | | 4256 | | | 425 | | 120 | 0 | 1 |
| Crunchy Spider Skewer | | 4256 | | | | 425 | 120 | 0 | 1 |
| Bergama Warning Fire | | | 4575 | 500 | | | 120 | 0 | 1 |
| Candied Jester's Coins | | | 4256 | | 425 | | 120 | 0 | 1 |
| Lava Foot Soup-and-Saltrice | | | 4575 | | | 457 | 120 | 0 | 1 |
| Betnikh Twice-Spiked Ale | | | | 500 | 457 | | 120 | 0 | 1 |
| Bowl of "Peeled Eyeballs" | | | | 468 | 425 | | 120 | 0 | 1 |
| Deregulated Mushroom Stew | | | | 500 | 457 | | 120 | 0 | 1 |
| Spring-Loaded Infusion | 3724 | 3458 | 3458 | | | | 120 | 0 | 1 |
| Witchmother's Potent Brew | 3511 | 3192 | | | 319 | | 120 | 0 | 1 |
| Dubious Camoran Throne | 3511 | | 3192 | | | 319 | 120 | 0 | 1 |
| Jewels of Misrule | 3511 | | | | 319 | 319 | 120 | 0 | 1 |
| Witchmother's Party Punch | | | | 351 | 319 | 319 | 120 | 0 | 1 |
| Double Bloody Mara | 5054 | 4575 | | | | | 120 | 0 | 1 |
| Clockwork Citrus Filet | 3724 | 3458 | | 351 | 319 | | 120 | 0 | 1 |
| Orzorga's Smoked Bear Haunch | 3724 | | | 351 | 319 | 319 | 120 | 0 | 1 |
| Hissmir Fish-Eye Rye | | | | | 457 | 457 | 120 | 0 | 1 |
[
edit this tab
]
The Provisioning skill requirements for crafting the recipes above depend on the level and quality (color) of the recipe, as shown in the following table:
| | Recipe Quality 1 | Recipe Quality 2 | Recipe Quality 3 | Recipe Quality 4 |
| --- | --- | --- | --- | --- |
| Recipe Improvement 0 | up to level 9 | up to level 9 | up to level 9 | up to level 9 |
| Recipe Improvement 1 | up to level 19 | up to level 19 | up to level 19 | up to level 19 |
| Recipe Improvement 2 | up to level 29 | up to level 29 | up to level 29 | up to level 29 |
| Recipe Improvement 3 | up to level 39 | up to level 39 | up to level 39 | up to level 39 |
| Recipe Improvement 4 | up to level 49 | up to level 49 | up to level 49 | up to level 49 |
| Recipe Improvement 5 | up to Champion 50 | up to Champion 50 | up to Champion 50 | up to Champion 50 |
| Recipe Improvement 6 | up to Champion 150 | up to Champion 150 | up to Champion 150 | up to Champion 150 |
Old System
Edit
Drinks
Wines
| Recipe | Ingredients | Requirements | Effect | Level |
| --- | --- | --- | --- | --- |
| Ash Zinfandel | Ash Millet, Lado grapes | Recipe Improvement 3, Recipe Quality 1 | Increase Magicka Recovery by 9 for 35 minutes | 35 |
| Black Wine | Black tea, Lado Grapes | Recipe Improvement 3, Recipe Quality 1 | Increase Magicka Recovery by 9 for 35 minutes | 35 |
| Clamberskull | Dark Bile, Grasa Grapes | Recipe Improvement 2, Recipe Quality 1 | Increase Magicka Recovery by 6 for 35 minutes | 20 |
| Invigorated Clamberskull | Dark bile, Grasa grapes, Concord grapes | Recipe Improvement 2, Recipe Quality 2 | Increase Magicka and Stamina Recovery by 4 for 1 hour | 20 |
| Invigorated Comet White Wine | Mountain Berries, Ribier Grapes, Concord Grapes | Recipe Improvement 5, Recipe Quality 2 | Increase Magicka and Stamina Recovery by 9 for 1 hour | [?] |
| Crystalline White | Crystal Berry, Camaralet Grapes | Recipe Improvement 4, Recipe Quality 1 | Increase Magicka Recovery by 10 for 35 minutes | 40 |
| Invigorated Crystalline White | Crystal berry, Camaralet grapes, Concord Grapes | Recipe Improvement 4, Recipe Quality 2 | Increase Magicka and Stamina Recovery by 8 for 1 hour | 40 |
| Dream Madeira | Wisp Floss, Wine Grapes | | Increase Magicka Recovery by 5 for 35 minutes | 15 |
| Dusky Claret | Dusk beetle, Wine grapes | Recipe Improvement 1, Recipe Quality 1 | Increase Magicka Recovery by 3 for 35 minutes | 5 |
| Gold Coast Muscat | Glitter Rock, Grasa grapes | Recipe Improvement 2, Recipe Quality 1 | Increase Magicka Recovery by 7 for 35 minutes | 25 |
| Heather Mead | Desert Heather, Lado Grapes | Recipe Improvement 3, Recipe Quality 1 | Increase Magicka Recovery by 8 for 35 minutes | 30 |
| Kaveh Red | Kaveh beans, Camaralet grapes | Recipe Improvement 4, Recipe Quality 1 | Increase Magicka Recovery by 11 for 35 minutes | 45 |
| Meat Muscat | Aged Meat, Wine grapes | Recipe Improvement 1, Recipe Quality 1 | Increase Magicka Recovery by 2 for 35 minutes | 1 |
| Numb-All-Over | Snake Venom, Wine grapes | Recipe Improvement 1, Recipe Quality 1 | Increase Magicka Recovery by 3 for 35 minutes | 5 |
| Porky Pot | Pig's Milk, Grasa Grapes | | Increase Magicka Recovery by 6 for 35 minutes | 20 |
| River Madeira | River grapes, Ladu Grapes | Recipe Improvement 3, Recipe Quality 1 | Increase Magicka Recover by 8 for 35 minutes | 30 |
| Snake Sherry | Snake Slime, Wine Grapes | Recipe Improvement 1, Recipe Quality 1 | Increase Magicka Recovery by 2 for 35 minutes | 1 |
| Spiced Wine | Shornhelm grains, Wine grapes | Recipe Improvement 1, Recipe Quality 1 | Increase Magicka Recovery by 2 for 35 minutes | 1 |
| Sunset Rose | Tangerine, Wine grapes | Recipe Improvement 1, Recipe Quality 1 | Increase Magicka Recovery by 4 for 35 minutes | 10 |
| Ungorth | Iron peat, Wine Grapes | Recipe Improvement 1, Recipe Quality 1 | Increase Magicka Recovery by 3 for 35 minutes | 5 |
| Vintage Spew | Orc hops, Grasa grapes | Recipe Improvement 2, Recipe Quality 1 | Increase Magicka Recovery by 7 for 35 minutes | 25 |
| Invigorated Vintage Spew | Orc hops, Grasa grapes, Concord Grapes | Recipe Improvement 2, Recipe Quality 2 | Increase Magicka and Stamina Recovery by 5 for 1 hour | 25 |
| Invigorated Voljar's Mead | Wild Honey, Wine grapes, Concord grapes | Recipe Improvement 1, Recipe Quality 2 | Increase Magicka and Stamina Recovery by 3 for 1 hour | 10 |
| Wet Wasp White | Wasp Squeezings, Wine grapes | Recipe Improvement 1, Recipe Quality 1 | Increase Magicka Recovery by 5 for 35 minutes | 15 |
| Invigorated Wet Wasp White | Wasp squeezings, Wine grapes, Concord grapes | Recipe Improvement 1, Recipe Quality 2 | Increase Magicka and Stamina Recovery by 4 for 1 hour | [?] |
Beers
| Recipe | Ingredients | Requirements | Effect | Level |
| --- | --- | --- | --- | --- |
| Bervez Lager | Bervez Fruit, Imperial Mash | Recipe Improvement 6, Recipe Quality 1 | Increase Health Recovery by 13 for 35 minutes | VR5 |
| Bitter Tea | Black Tea, Caramalt | Recipe Improvement 3, Recipe Quality 1 | Increase Health Recovery by 9 for 35 minutes | 35 |
| Consummate Bitter Tea | Black tea, Caramalt, Hops, Hallertau hops, Saaz hops | Recipe Improvement 3, Recipe Quality 3 | Increase Health, Magicka, and Stamina Recovery by 6 for 2 hours | 35 |
| Bog-Iron Ale | Iron Peat, Brown Malt | Recipe Improvement 1, Recipe Quality 1 | Increase Health Recovery by 3 for 35 minutes | 5 |
| Bottled Buzz | Wasp squeezings, Brown malt | Recipe Improvement 1, Recipe Quality 1 | Increase Health Recovery by 5 for 35 minutes | 15 |
| Brew-Wife Ale | Orc Hops, Amber Malt | Recipe Improvement 2, Recipe Quality 1 | Increase Health Recovery by 7 for 35 minutes | 25 |
| Fortified Brew-Wife | Orc hops, Amber malt, Hallertau hops | Recipe Improvement 2, Recipe Quality 2 | Increase Health and Magicka Recovery by 5 for 1 hour | 25 |
| Citrus Malt | Tangerine, Brown malt | Recipe Improvement 1, Recipe Quality 1 | Increase Health Recovery by 4 for 35 minutes | 10 |
| Crystal Beer | Crystal berry, Wheat malt | Recipe Improvement 4, Recipe Quality 1 | Increase Health Recovery by 10 for 35 minutes | 40 |
| Dark Meat Beer | Aged meat, Brown malt | Recipe Improvement 1, Recipe Quality 1 | Increase Health Recovery by 2 for 35 minutes | 1 |
| Four-Eye Grog | Dark bile, Amber malt | Recipe Improvement 2, Recipe Quality 1 | Increase Health Recovery by 6 for 35 minutes | 20 |
| Fortified Four-Eye Grog | Dark bile, Amber malt, Hallertau hops | Recipe Improvement 2, Recipe Quality 2 | Increase Health and Magicka Recovery by 4 for 1 hour | 20 |
| Fortified Golden Apple Ale | Ripe Apple, Brown malt, Hallertau Hops | Recipe Improvement 1, Recipe Quality 2 | Increase Health and Magicka Recovery by 3 for 1 hour | [?] |
| Heather Tea | Desert heather, Caramalt | Recipe Improvement 3, Recipe Quality 1 | Increase Health Recover by 8 for 35 minutes | 30 |
| Jagga | Pig's Milk, Amber Malt | Recipe Improvement 2, Recipe Quality 1 | Increase Health Recovery by 6 for 35 minutes | 20 |
| Kaveh Stout | Kaveh Beans, Wheat malt | Recipe Improvement 4, Recipe Quality 1 | Increase Health Recovery by 11 for 35 minutes | 45 |
| Mountain Lager | Mountain berries, White malt | Recipe Improvement 5, Recipe Quality 1 | Increase Health Recovery by 12 for 35 minutes | 50 |
| Saloop | Snake venom, Brown malt | Recipe Improvement 1, Recipe Quality 1 | Increase Health Recovery by 3 for 35 minutes | 5 |
| Shornhelm Ale | Shornhelm Grains, Brown Malt | Recipe Improvement 1, Recipe Quality 1 | Increase Health Recovery by 2 for 35 minutes | 1 |
| Snake Sweat | Snake slime, Brown malt | Recipe Improvement 1, Recipe Quality 1 | Increase Health Recovery by 2 for 35 minutes | 1 |
| Sun's Dusk Ale | Dusk Beetle, Brown malt | Recipe Improvement 1, Recipe Quality 1 | Increase Health Recovery by 3 for 35 minutes | 5 |
| Sweetmilk | Glitter Rock, Amber Malt | | Increase Health Recovery by 7 for 35 minutes | 25 |
| Sylph-Sandy | Wisp Floss, Brown Malt | | Increase Health Recovery by 5 for 35 minutes | 15 |
Spirits
| Recipe | Ingredients | Requirements | Effect | Level |
| --- | --- | --- | --- | --- |
| Aqua Vitae | Shornhelm grains, Corn mash | Recipe Improvement 1, Recipe Quality 1 | Increase Stamina Recovery by 2 for 35 minutes | 1 |
| Beetle Shots | Dusk beetle, Corn mash | Recipe Improvement 1, Recipe Quality 1 | Increase Stamina Recovery by 3 for 35 minutes | 5 |
| Berveza Vitae | Bervez Fruit, Golden Mail | Recipe Improvement 6, Recipe Quality 1 | Increase Stamina Recovery by 13 for 35 minutes | VR5 |
| Black Night Cordial | Black tea, Oat mash | Recipe Improvement 3, Recipe Quality 1 | Increase Stamina Recovery by 9 for 35 minutes | 35 |
| Blinder | Snake venom, Corn mash | Recipe Improvement 1, Recipe Quality 1 | Increase Stamina Recovery by 3 for 35 minutes | 5 |
| Crystal Clarity | Crystal berry, Barley Mash | Recipe Improvement 4, Recipe Quality 1 | Increase Stamina Recovery by 10 for 35 minutes | 40 |
| Dancing Grandma | Ginkgo, Isinglass | Recipe Improvement 3, Recipe Quality 1 | Increase Stamina Recovery by 224 for 35 minutes (5 second cooldown) | |
| Eye-Opener | Jazbay grapes, Golden malt | Recipe Improvement 6, Recipe Quality 1 | Increase Stamina Recovery by 13 for 35 minutes | VR5 |
| Golden Liquer | Ripe Apple, Corn Mash | | Increase Stamina Recovery by 4 for 35 minutes | 10 |
| Heather Bender | Desert heather, Oat mash | Recipe Improvement 3, Recipe Quality 1 | Increase Stamina Recovery by 8 for 35 minutes | 30 |
| Hopscotch | Orc hops, Wheat Mash | Recipe Improvement 2, Recipe Quality 1 | Increase Stamina Recovery by 7 for 35 minutes | 25 |
| Enriched Hopscotch | Orc hops, Wheat Mash, Snowberry | | Increase Health and Stamina Recovery by 5 for 1 hour | 25 |
| Jagga Ouzo | Pig's Milk, Wheat Mash | | Increase Stamina Recovery by 6 for 35 minutes | 20 |
| Mountain Spirits | Mountain berries, Rice mash | Recipe Improvement 5, Recipe Quality 1 | Increase Staminia Recovery by 12 for 35 minutes | 50 |
| Night-Grog | River Grapes, Oat Mash | Recipe Improvement 3, Recipe Quality 1 | Increase Stamina Recovery by 8 for 35 minutes | 30 |
| Old Kindlepitch | Dark bile, Wheat Mash | Recipe Improvement 2, Recipe Quality 1 | Increase Stamina Recovery by 6 for 35 minutes | 20 |
| Enriched Old Kindlepitch | Dark bile, Wheat mash, Snowberry | | Increase Health and Stamina Recovery by 4 for 1 hour | 20 |
| Qhalua | Kaveh beans, Barely mash | Recipe Improvement 4, Recipe Quality 1 | Increase Stamina Recovery by 11 for 35 minutes | 45 |
| Enriched Qhalua | Kaveh beans, Barely mash, Snowberry | Recipe Improvement 4, Recipe Quality 2 | Increase Health and Stamina Recovery by 8 for 1 hour | 45 |
| Rotmeth | Aged meat, Corn mash | Recipe Improvement 1, Recipe Quality 1 | Increase Stamina Recovery by 2 for 35 minutes | 1 |
| Slither Liquor | Snake slime, Corn Mash | Recipe Improvement 1, Recipe Quality 1 | Increase Stamina Recovery by 2 for 35 minutes | 1 |
| Sylphy Gin | Wisp Floss, Corn Mash | | Increase Stamina Recovery by 5 for 35 minutes | 15 |
| Truth-glimpse | Iron Peat, Corn mash | | Increase Stamina Recovery by 3 for 35 minutes | 5 |
| White Eye | Glitter Rock, Wheat Mash | | Increase Stamina Recovery by 7 for 35 minutes | 25 |
Foods
Breads and Pies
| Recipe | Ingredients | Requirements | Effect | Level |
| --- | --- | --- | --- | --- |
| Battaglir Loaf | Battaglir Weeds, Meal | Recipe Improvement 1, Recipe Quality 1 | Increase Max Health by 66 for 35 minutes | 5 |
| Bear Flank Pie | Bear Haunch, Meal | Recipe Improvement 1, Recipe Quality 1 | Increase Max Health by 96 for 35 minutes | 10 |
| Beef Pasty | Beef, Cake flour | Recipe Improvement 4, Recipe Quality 1 | Increase Max Health by 276 for 35 minutes | 40 |
| Capon Tinish | Capon Meat, Meal | Recipe Improvement 1, Recipe Quality 1 | Increase Max Health by 42 for 35 minutes | 1 |
| Combwort Flatbread | Combwort, Milled Flour | | Increase Max Health by 156 for 35 minutes | 20 |
| Fortified Combwort Flatbread | Combwort, Milled Flour, Red Wheat | [?] | Increase Max Health and Magicka by 139 for 1 hour | 20 |
| Fortified Crawdad Quiche | Crawdad, Sifted Flour, Red Wheat | [?] | Increase Max Health and Magicka by 187 for 1 hour | 30 |
| Flank Pie | Flank Steak, Sifted flour | Recipe Improvement 3, Recipe Quality 1 | Increase Max Health by 246 for 35 minutes | 35 |
| Goat Dumplings | Goat Bits, Milled Flour | | Increase Max Health by 156 for 35 minutes | 20 |
| Goatherd's Pie | Goat Meat, Meal | Recipe Improvement 1, Recipe Quality 1 | Increase Max Health by 42 for 35 minutes | 1 |
| Guar Quiche | Guar Eggs, Meal | Recipe Improvement 1, Recipe Quality 1 | Increase Max Health by 66 for 35 minutes | 5 |
| Horker Loaf | Horker Meat, Sifted Flour | Recipe Improvement 3, Recipe Quality 1 | Increase Max Health by 216 for 35 minutes | 30 |
| Moon Sugar Biscuits | Moon Sugar, Milled Flour | | Increase Max Health by 186 for 35 minutes | 25 |
| Mutton Pie | Mutton Flank, Meal | Recipe Improvement 1, Recipe Quality 1 | Increase Max Health by 126 for 35 minutes | 15 |
| Fortified Mutton Pie | Mutton flank, Meal, Red wheat | Recipe Improvement 1, Recipe Quality 2 | Increase Max Health and Magicka by 115 for 1 hour | 15 |
| Shank-and-Potato Pie | Shank, Cake Flour | Recipe Improvement 4, Recipe Quality 1 | Increase Max Health by 306 for 35 minutes | 45 |
| Fortified Shank-and-Potato Pie | Shank, Cake flour, Red Wheat | Recipe Improvement 4, Recipe Quality 2 | Increase Max Health and Magicka by 259 for 1 hour | 45 |
| Sweetbread | Sweetmeats, Meal | Recipe Improvement 1, Recipe Quality 1 | Increase Max Health by 96 for 35 minutes | 10 |
| Sweetroll | Honey Comb, Imperial Flour | Recipe Improvement 6, Recipe Quality 1 | Increase Max Health by 372 for 35 minutes | VR5 |
| Fortified Sweetroll | Honey Comb, Imperial Flour, Red Wheat | [?] | Increase Max Health and Magicka by 312 for 1 hour | VR5 |
| Trotter Pie | Pork, Meal | Recipe Improvement 1, Recipe Quality 1 | Increase Magicka Recovery by 42 for 35 minutes | 1 |
| Venison Pasty | Venison, Milled Flour | Recipe Improvement 2, Recipe Quality 1 | Increase Max Health by 186 for 35 minutes | 25 |
| Fortified Venison Pasty | Venison, Milled flour, Red wheat | [?] | Increase Max Health and Magicka by 163 for 1 hour | 25 |
Grilled Foods
| Recipe | Ingredients | Requirements | Effect | Level |
| --- | --- | --- | --- | --- |
| Battaglir Grill | Battaglir Weeds, Drippings | Recipe Improvement 1, Recipe Quality 1 | Increase Max Stamina by 66 for 35 minutes | 5 |
| Bear Hash | Bear Haunch, Drippings | Recipe Improvement 1, Recipe Quality 1 | Increase Max Stamina by 96 for 35 minutes | 10 |
| Caramelized Goat Nibbles | Goat Bits, Cooking Fat | | Increase Max Stamina by 156 for 35 minutes | 20 |
| Crawdad Stir-Fry | Crawdad, Suet | Recipe Improvement 3, Recipe Quality 1 | Increase Max Stamina by 216 for 35 minutes | 30 |
| Fishy Sticks | Mudcrab Meat, Fatback | Recipe Improvement 5, Recipe Quality 1 | Increase Max Stamina by 288 for 35 minutes | 45 |
| Enriched Fishy Sticks | Mudcrab Meat, Fatback, Salt | Recipe Improvement 5, Recipe Quality 2 | Increase Max Health and Stamina by 283 for 1 hour | VR5 |
| Fried Guar Eggs | Guar eggs, Drippings | Recipe Improvement 1, Recipe Quality 1 | Increase Max Stamina by 66 for 35 minutes | 5 |
| Grilled Capon | Capon Meat, Drippings | Recipe Improvement 1, Recipe Quality 1 | Increase Max Stamina by 42 for 35 minutes | 1 |
| Grilled Combwort | Combwort, Cooking Fat | Recipe Improvement 2, Recipe Quality 1 | Increase Max Stamina by 156 for 35 minutes | 20 |
| Enriched Grilled Combwort | Combwort, Cooking fat, Salt | Recipe Improvement 1, Recipe Quality 2 | Increase Max Health and Stamina by 139 for 1 hour | 20 |
| Grilled Horker | Horker Meat, Suet | Recipe Improvement 3, Recipe Quality 1 | Increase Max Stamina by 216 for 35 minutes | 30 |
| Grilled Shank | Shank, Lard | Recipe Improvement 4, Recipe Quality 1 | Increase Max Stamina by 306 for 35 minutes | 45 |
| Grilled Venison | Venison, Cooking Fat | Recipe Improvement 2, Recipe Quality 1 | Increase Max Stamina by 186 for 35 minutes | 25 |
| Enriched Grilled Venison | Venison, Cooking Fat, Salt | Recipe Improvement 2, Recipe Quality 2 | Increase Max Health and Stamina by 244 for 1 hour | 25 |
| Honey Brittle | Honey Comb, Pinguis | Recipe Improvement 6, Recipe Quality 1 | Increase Max Stamina by 372 for 35 minutes | VR5 |
| Enriched Honey Brittle | Honey Comb, Pinguis, Salt | [?] | Increase Max Health and Stamina by 312 for 1 hour | VR5 |
| Liver and Lights | Liver, Drippings | | Increase Max Stamina by 126 for 35 minutes | 15 |
| Moon Sugar Brittle | Moon Sugar, Cooking Fat | | Increase Max Stamina by 186 for 35 minutes | 25 |
| Mountain Jerky | Flank Steak, Suet | Recipe Improvement 3, Recipe Quality 1 | Increase Max Stamina by 246 for 35 minutes | 35 |
| Consummate Mountain Jerky | Flank Steak, Suet, Salt, Garlic, Pepper | [?] | Increase Max Health, Stamina and Magicka by 180 for 2 hours | 35 |
| Mutton Ribs | Mutton Flank, Drippings | Recipe Improvement 1, Recipe Quality 1 | Increase Max Stamina by 126 for 35 minutes | 15 |
| Roast Goat | Goat Meat, Drippings | Recipe Improvement 1, Recipe Quality 1 | Increase Max Stamina by 42 for 35 minutes | 1 |
| Roast Pig | Pork, Drippings | Recipe Improvement 1, Recipe Quality 1 | Increase Max Stamina by 42 for 35 minutes | 1 |
| Enriched Slow-Roasted Chaurus | Chaurus Meat, Suet, Salt | Recipe Improvement 3, Recipe Quality 2 | Increase Max Health and Stamina by 187 for 1 hour | [?] |
Soups and Stews
| Recipe | Ingredients | Requirements | Effect | Level |
| --- | --- | --- | --- | --- |
| Baandari Mutton Stew | Mutton flank, Thin broth | Recipe Improvement 1, Recipe Quality 1 | Increase Max Magicka by 126 for 35 minutes | 15 |
| Bear Soup | Bear haunch, Thin broth | Recipe Improvement 1, Recipe Quality 1 | Increase Max Magicka by 96 for 35 minutes | 10 |
| Breton Stew | Flank Steak, Stock | Recipe Improvement 3, Recipe Quality 1 | Increase Max Magicka by 246 for 35 minutes | 35 |
| Capon Noodle Soup | Capon Meat, Thin Broth | Recipe Improvement 1, Recipe Quality 1 | Increase Max Magicka by 42 for 35 minutes | 1 |
| Century Soup | Guar eggs, Thin broth | Recipe Improvement 1, Recipe Quality 1 | Increase Max Magicka by 66 for 35 minutes | 5 |
| Combwort Confit | Combwort, Broth | Recipe Improvement 2, Recipe Quality 1 | Increase Max Magicka by 156 for 35 minutes | 20 |
| Chaurus-in-Carapace | Chaurus meat, Stock | Recipe Improvement 3, Recipe Quality 1 | Increase Max Magicka by 216 for 35 minutes | 30 |
| Invigorated Chaurus-in-Carapace | Chaurus meat, Stock, Onion | [?] | Increase Max Magicka and Stamina by 163 for 1 hour | 30 |
| Crab Meat Stew | Mudcrab meat, Glace vinade | Recipe Improvement 5, Recipe Quality 1 | Increase Max Magicka by 336 for 35 minutes | |
| Crawdad Etoufee | Crawdad, Stock | Recipe Improvement 3, Recipe Quality 1 | Increase Max Magicka by 216 for 35 minutes | 30 |
| Elsweyr Fondue | Moon Sugar, Broth | | Increase Max Magicka by 186 for 36 minutes | 25 |
| Goat Bone Soup | Goat meat, Thin broth | Recipe Improvement 1, Recipe Quality 1 | Increase Max Magicka by 42 for 35 minutes | 1 |
| Goat Stew | Goat Bits, Broth | | Increase Max Magicka by 156 for 35 minutes | 20 |
| Honey Pudding | Honey Comb, Imperial Stock | Recipe Improvement 6, Recipe Quality 1 | Increase Max Magicka by 372 for 35 minutes | VR5 |
| Invigorated Honey Pudding | Honey Comb, Imperial Stock, Onion | [?] | Increase Max Magicka and Stamina by 312 for 1 hour | VR5 |
| Consummate Honey Pudding | Honey Comb, Imperial stock, Onion, Potato, Tomato | Recipe Improvement 6, Recipe Quality 3 | | VR5 |
| Horker Stew | Horker Meat, Stock | Recipe Improvement 3, Recipe Quality 1 | Increase Max Magicka by 216 for 35 minutes | 30 |
| Imperial City Stew | Shank, Jus | Recipe Improvement 4, Recipe Quality 1 | Increase Max Magicka by 306 for 35 minutes | 45 |
| Jugged Venison | Venison, Broth | Recipe Improvement 2, Recipe Quality 1 | Increase Max Magicka by 186 for 35 minutes | 25 |
| Invigorated Jugged Venison | Venison, Broth, Onion | [?] | Increase Max Magicka and Stamina by 163 for 1 hour | 25 |
| Liver Goulash | Liver, Thin Broth | Recipe Improvement 1, Recipe Quality 1 | Increase Max Magicka by 126 for 35 minutes | 15 |
| Poached Kwama Egg | Kwama eggs, Thin broth | Recipe Improvement 1, Recipe Quality 1 | Increase Max Magicka by 66 for 35 minutes. | 5 |
| Pumpkin Puree | Pumpkin | Recipe Improvement 1, Recipe Quality 1 | Increase Max Magicka by 600 for 35 minutes. (5 second cooldown) | 5 |
| Pork Soup | Pork, Thin broth | Recipe Improvement 1, Recipe Quality 1 | Increase Max Magicka by 42 for 35 minutes | 1 |
| Steak Soup | Beef, Jus | Recipe Improvement 4, Recipe Quality 1 | Increase Max Magicka by 276 for 35 minutes | 40 |
| Stewed Battaglir | Battaglir weeds, Thin broth | Recipe Improvement 1, Recipe Quality 1 | Increase Max Magicka by 66 for 35 minutes | 5 |
| Swamp Soup | Frog Legs, Stock | Recipe Improvement 3, Recipe Quality 1 | Increase Max Magicka by 246 for 35 minutes | 35 |
Appearances
Edit