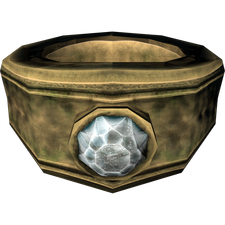 For other uses, see Rings.
Rings are a type of apparel found in The Elder Scrolls V: Skyrim. They are pieces of jewelry that can only be worn on the right index finger. They do not provide any boost to Armor rating, but are very light, valuable, and can be enchanted with a variety of beneficial enchantments.
Acquisition
Edit
Eight types of rings can be crafted at a blacksmith's forge or anvil using combinations of Gold or Silver Ingots and precious gemstones. Certain craftable rings are crafted in pairs: if a Gold or Silver Ring is smithed, then two of that type of ring will be created from the single ingot.
Other methods
Edit
Both unenchanted and enchanted rings can be found on various enemies throughout Skyrim. They may also be found as random loot in chests or as a world item.
Unique rings can only be found in specific locations, usually through a quest or as a quest reward.
The armor

of each ring is 0.
Ad blocker interference detected!
Wikia is a free-to-use site that makes money from advertising. We have a modified experience for viewers using ad blockers

Wikia is not accessible if you've made further modifications. Remove the custom ad blocker rule(s) and the page will load as expected.