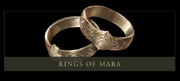 The Rings of Mara were previously obtainable items in The Elder Scrolls Online. They were part of an exclusive collection of digital content available with the Imperial Edition of the game. Since their conception in the game, they have been replaced by the Pledge of Mara, which is more of a certificate as opposed to rings. Both items can still be used to complete the Ritual of Mara between two players.
Completing the Ritual of Mara with another player, will provide a 10 percent bonus experience buff to the partners if they wear the rings while in a group together.
Appearances
Edit
Ad blocker interference detected!
Wikia is a free-to-use site that makes money from advertising. We have a modified experience for viewers using ad blockers

Wikia is not accessible if you've made further modifications. Remove the custom ad blocker rule(s) and the page will load as expected.