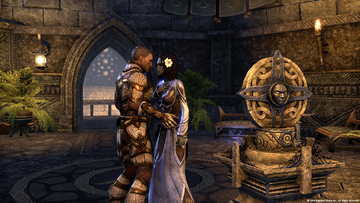 The Ritual of Mara is a ritual in The Elder Scrolls Online. Players who have purchased the Imperial Edition, or the Pledge of Mara from the Crown Store will be able to complete this ritual with Rings of Mara, for an experience bonus when completing quests together.
Two players must stand near the symbol of Mara, which can be found in multiple cities across the world. Only one Imperial Edition is enough. The player who has it must redeem the Pledge of Mara from the in-game mail and make it a quick slot item. Then, pressing the quick slot button and targeting the player to bond with, he or she must select the slot with the Pledge. A dialogue will appear confirming their choice. If both confirm, a quick animation will be shown, and each player will receive a unique ring in their inventory. Wearing them will grant a 10% bonus to experience gained when playing in a group.
Appearances
Edit
Ad blocker interference detected!
Wikia is a free-to-use site that makes money from advertising. We have a modified experience for viewers using ad blockers

Wikia is not accessible if you've made further modifications. Remove the custom ad blocker rule(s) and the page will load as expected.