Riverhold
Talk

0
19,066pages on
this wiki
Riverhold
Have an image of this location?
Then please upload it!
Map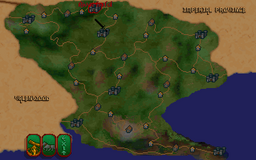 Riverhold is a city in Elsweyr. It is one of many possible locations that the Eternal Champion may visit in The Elder Scrolls: Arena. Riverhold is known to have a very crowded marketplace as people from the countryside flock to it daily [1].
Riverhold is known to have existed during the First Era [2]. It is known to also have existed during the Imperial Simulacrum [3] and around 4E 40 [4]. Despite the fact that Elsweyr had ceded to the empire by this point in time [4], the city is known to have been "swarming with Imperial agents". [4]
The city of Riverhold (and most probably the surrounding area) is ruled by a King or Queen. The only known ruler of Riverhold is Queen Naghea, who commanded the left flank of the Imperial army at the Battle of Bodrum, during the Four Score War [2].
Geography
Edit
Riverhold is located three miles east of a small market town, Sheeraln. [4]
Elsweyr: Deserts of Anequina
Edit
The city appears in the Elsweyr: Deserts of Anequina modification for The Elder Scrolls IV: Oblivion by Iliana as a leveled wooden town somewhat resembling the centre of Bravil. The town is on steep slopes on the other side of the hills which mark the boundary with the West Weald area of Cyrodiil.
Appearances
Edit
References
Edit