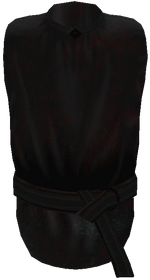 For other uses, see Robes.
Robes are long pieces of cloth, typically worn from the shoulders to the ankles. Robes can either be plain, or can be enchanted with various spells providing a Constant Effect.
Robes are not considered armor, thus they do not have an armor rating. They are however, the first clothes available to the Hero in the game, and are extremely helpful if they are a proficient caster interested in maximum spell efficiency.
It should be noted that a robe will occupy the torso, legs, and (in some cases) feet. As player-enchanted items may only have one enchantment, This may be a limitation to a player seeking an outfit with many enchantments.
Mage robes
Edit
Other robes
Edit
Ad blocker interference detected!
Wikia is a free-to-use site that makes money from advertising. We have a modified experience for viewers using ad blockers

Wikia is not accessible if you've made further modifications. Remove the custom ad blocker rule(s) and the page will load as expected.