Rumors
Talk

0
19,078pages on
this wiki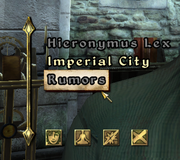 "Dear brother, I do not spread rumors, I create them."
Rumors are a topic that most people the Hero of Kvatch and the Dragonborn can use as a dialogue option. The person telling the rumor may tell the Heroes the location of a place, may give information about a person that may offer a quest, or may simply give useless information. This dialogue option is never affected by the character's disposition toward the Heroes. People who know rumors are usually owners of businesses such as inns, and asking them whether they've heard any recent rumors can often trigger quests.
List of rumors
Edit
In The Elder Scrolls III: Morrowind, the rumors are displayed as "latest rumors" in the NPC dialog window.
This list is incomplete; help us expand it.
Some characters in Oblivion are set to have specific rumor dialogue that is not meant to change. Notable examples include:
In The Elder Scrolls V: Dawnguard rumors are used to start the expansion pack.
Appearances
Edit