Rune Stones
Talk

2
19,085pages on
this wiki
For Skyrim's Guardian Stones, see Guardian Stones.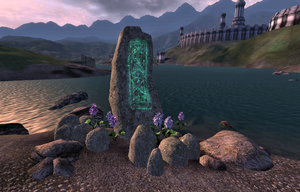 Rune Stones are similar in appearance to the Doomstones, but do not grant the character one or more Greater Powers. Instead, they enchant the character with Bound Weapon and/or Bound Armor enchantments.
Rune Stones can be activated any time of day but need one day to recharge after they have been used. They increase your Conjuration skill bar.
Rune Stone Locations
Edit
Each Rune Stone has multiple locations in Cyrodiil.