Sardavar Leed
Talk

3
19,079pages on
this wiki
Sardavar Leed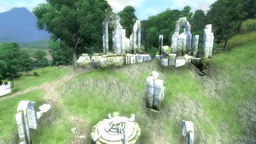 Map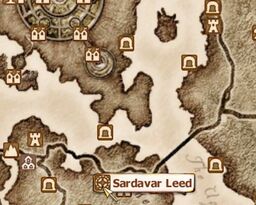 It is an Ayleid Ruin located on the south shore of Lake Rumare, south of the Imperial City. According to The Adabal-a, the city of which the ruin is a remnant was once called simply Sard, and was the birthplace of Alessia, who became Queen and eventually overthrew Ayleid rule in Tamriel. Sardavar Leed is split into two levels: Sardavar Leed and Sardavar Leed Lattasel. The former level contains 16 Welkynd Stones, and the latter holds 2 Varla Stones. Both zones are inhabited by conjurers and their daedra pets.
Sardavar Leed
Sardavar Leed Lattasel
There are about a dozen of Welkynd Stones and 2 Varla Stones.
Appearances
Edit
Varla Stones
Edit
The two Varla Stones in the Lattasel are out of reach from the ground, and the ground below triggers a wall to rise up around the 4 pillars and poison gas to fill the trap chamber. One method of obtaining these precious items is to run into the square trap, then back to the section where the wall rises (the top of the wall can be seen on the ground) when vision begins to blur. The wall will push the character out of the map entirely, and they can see a top view of the whole Sardavar Leed Lattasel. The player then waits for the walls to retract, the green smoke to fade. Next they walk back to where the wall was, preferably near one of the Varla Stone corners, and wait to fall. The wall has a hole in the ceiling into which it rises. When the player is falling, they must grab the Varla Stone from the pillar. This will take a few tries, so saving, good armor, or healing potions is recommended.