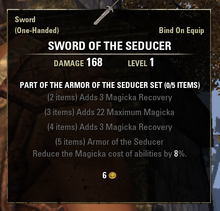 Main article: Item Sets
Seducer Set is an enchantment that appears in The Elder Scrolls Online.
An item given this enchantment will have an enchantment called "Part of the Seducer Set."
2 Items equipped
Edit
Adds Magicka Recovery
3 Items equipped
Edit
Adds Maximum Magicka
4 Items equipped
Edit
Adds Magicka recovery
5 Items equipped
Edit
Gain title "Armor of the Seducer"
Reduce Magicka cost of abilities
Requirements
Edit
In order to craft an item with the Seducer set enchantment, the item being crafted must have at least 2 traits researched for it and crafted at one of the proper crafting stations.
Locations
Edit
The necessary crafting stations needed to apply this enchantment can be found at:
Appearances
Edit
Ad blocker interference detected!
Wikia is a free-to-use site that makes money from advertising. We have a modified experience for viewers using ad blockers

Wikia is not accessible if you've made further modifications. Remove the custom ad blocker rule(s) and the page will load as expected.