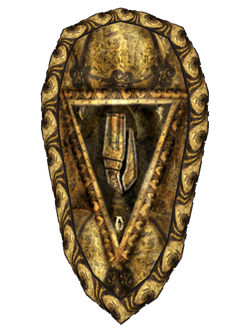 For other uses, see Shields.
Shields are handheld pieces of armor used to block incoming blows during melee combat. They are available in a variety of materials and styles, and in all three armor classes: light, medium, and heavy.
Blocking can only be performed with a shield, and is automatic in Morrowind. Shields are limited to use in melee combat; ranged and magical attacks cannot be deflected. The chance of successfully diverting attacks is governed by the Block skill, and is also influenced by the Agility and Luck attributes.
It is possible to equip both a shield and a two-handed weapon. Although the shield cannot be used to block attacks in this case, it still provides any bonuses granted by a constant effect enchantment. This can prove to be rather beneficial, as some shields have a high capacity for enchantments. The Daedric Tower Shield surpasses all other pieces armor in the game, with a 225 enchantment value.
A shield's effectiveness as armor is correlated with armor class of the equipped item. The armor ratings listed in the tables below are the nominal values, as provided by the game's Construction Set. The actual value determined during gameplay is dependent on the corresponding armor skill (Light, Medium, or Heavy). At a skill-level of 100 the armor rating is the value listed below, multiplied by 3.333. For example, the Chitin Shield is listed at 10, but with 100 points in the Light Armor skill, its armor rating will be 10 × 3.333 = 33.33 points. The result is not rounded to the nearest whole number, and any digits following the decimal point are ignored (e.g. 44.995 becomes 44, not 45).
Armor class comparison
Edit
 
Armor Class
Light
Medium
Heavy
Shield attributes
Min.
Max.
Min.
Max.
Min.
Max.
      Armor rating
5
55
15
45
10
100
      Weight
4.0
9.0
10.0
13.5
14.0
45.0
      Value
17
20,000
170
5,400
34
200,000
      Durability
100
1,000
300
900
200
2,000
      Enchantment
15
37.5
40
90
75
225
Note: The table above pertains to Morrowind and Tribunal shields. Some Bloodmoon items do not fall within these confines.
Light armor
Edit
Medium armor
Edit
Heavy armor
Edit
Piece
Enchantment
Item ID
Ancient Steel Tower Shield BM
19
20.0
100
75
-

steel_towershield_ancient

Auriel's Shield
60
30.0
17,000
100
-

ebony_shield_auriel

Azura's Servant
80
45.0
30,000
N/A
Drain Magicka 1–10 pts for 30 sec on touch
Frost Damage 1–15 pts on target

azura's servant

Blessed Shield
15
15.0
130
N/A
Restore Health 10 pts on self

blessed_shield

Blessed Tower Shield
15
15.0
130
N/A
Restore Health 10 pts on self

blessed_tower_shield

Blood Feast Shield
18
20.0
1,000
N/A
Absorb Health 5–20 pts for 10 sec on touch

Blood_Feast_Shield

Daedric Shield
80
45.0
34,000
150
-

daedric_shield

Daedric Tower Shield
80
45.0
50,000
225
-

daedric_towershield

Darksun Shield
60
30.0
17,000
N/A
Drain Magicka 100 pts constant on self
Night-Eye 10 pts constant on self
Reflect 20 pts constant on self
Restore Fatigue 10 pts constant on self

darksun_shield_unique

Dwemer Battle Shield TR
20
15.0
510
50
-

dwemer_shield_battle_unique

Dwemer Shield
20
15.0
510
50
-

dwemer_shield

Ebony Shield
60
30.0
17,000
100
-

ebony_shield

Ebony Tower Shield
60
30.0
25,000
150
-

ebony_towershield

Eleidon's Ward
100
30.0
200,000
N/A
Restore Health 50–100 pts on self

towershield_eleidon_unique

Her Hand's Shield TR
55
17.0
2,500
N/A
Fortify Block 10 pts constant on self

Indoril_MH_Guard_shield

Holy Tower Shield
17
15.0
3,100
N/A
Restore Health 10 pts on self

holy_tower_shield

Imperial Shield
16
14.0
78
50
-

imperial shield

Iron Shield
10
15.0
34
50
-

iron_shield

Iron Tower Shield
12
18.0
50
75
-

iron_towershield

Nordic Mail Shield BM
66
20.0
1,000
10
-

BM_NordicMail_Shield

Nordic Trollbone Shield
18
16.0
78
40
-

trollbone_shield

Saint's Shield
60
30.0
15,000
N/A
Feather 20 pts for 10 sec on self
Restore Fatigue 1–10 pts for 20 sec on self

saint's shield

Shadow Shield
20
15.0
2,400
N/A
Invisibility 20 sec on self
Restore Fatigue 5 pts for 20 sec on self

shadow_shield

Shield of Wounds
20
15.0
620
N/A
Drain Health 1–10 pts on target

shield of wounds

Spell Breaker
70
25.0
115,000
N/A
Reflect 10–20 pts for 30 sec on self
Silence 30 ft for 30 sec on target

spell_breaker_unique

Steel Shield
15
15.0
68
50
-

steel_shield

Steel Tower Shield
18
20.0
100
75
-

steel_towershield