Shields (Skyrim)
Talk

1
19,085pages on
this wiki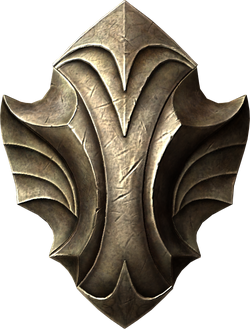 Shields
are pieces of
armor
held in the hand to deflect blows. Available in both heavy and light variants, the shield is favored by many
warriors
and other offensive
classes
.
The effectiveness of shields is governed by the Block skill and the corresponding armor type -- Light or Heavy. All three contain customizable perk trees. When allocated with the right perks, shields are able to block not only direct melee attacks, but also incoming arrows, power attacks, and even fire, frost, and shock damage.
They can also be used as weapons due to their bash ability, able to stagger and even knock down opponents.
Heavy Armor
Edit
Light Armor
Edit
Unique shields
Edit
Enchanting
Edit
The following is a list of enchantments that can be applied to shields.
For certain enchanted shields, such as Spell Breaker, power attacks will sometimes not work; they will take up no stamina, and not do the damage that the attack would normally do.
When a shield is dropped, there is a chance that whenever a follower picks it up it will respawn (Tested With Dragonbone Shield And Shield Of Solitude PS3)