Silvenar
Talk

0
19,064pages on
this wiki
Silvenar
Have an image of this location?
Then please upload it!
Map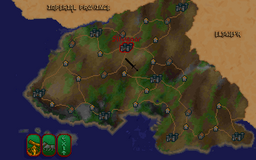 Silvenar is a city located in the province of Valenwood. It is known for its striking appearance, due to the magical tree sap of the glade which had formerly stood there . The city is comparable to a great flower of many colors . It is one of several possible locations that the Eternal Champion may discover in The Elder Scrolls: Arena.
A Dance In the Fire
Edit
In the A Dance In the Fire book series, Silvenar is called "the heart of the province (Valenwood)", by a boatman, and in many ways seems to function as the region's capital. As this is the only source to suggest this it is up for debate, especially as the capital has been previously stated to be at Falenesti.
These books also suggest that the ruler of the Bosmer is a being known as the Silvenar, who resides in the city that bears his name. He is called "the closest the Bosmeri have to a great leader", and seems to be intrinsically connected to the people he rules over, to the extent that he knows their wants and acts accordingly when meeting foreign delegates. He is also noted to be very short at the time of the story, seemingly connected to how the Bosmer people were suffering during the War of the Blue Divide.
References
Edit