Silver Hand
Talk

13
19,048pages on
this wiki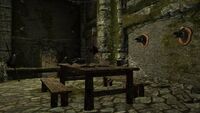 The Silver Hand is an organization devoted to hunting down and exterminating werewolves; they are mortal enemies of the Circle, due to the fact that the Circle's members are werewolves. Silver Hand members are equipped almost exclusively with silver weapons, the only exception to this being their arrows, which are usually made of iron, steel, orcish, or even dwarven arrows.  They are the main antagonists in the Companions Quest line.
Interactions
Edit
If the Dragonborn becomes a Companion, the Silver Hand attacks them when traveling with Farkas. Even if the Dragonborn is not a Companion or a werewolf, Silver Hand members may still be hostile and attack on sight.
During the quest The Silver Hand after killing Krev the Skinner, Skjor is found dead, killed by the Silver Hand.
During the quest line for the Companions, the Dragonborn and Aela the Huntress start a war against them, and the Dragonborn can (optionally) end the war by wiping out most of the grouped members of the Silver Hand, leaving only small scattered groups.
Strongholds
Edit
They could be considered anti-heroes seeing how their cause is noble, but have a tendancy to come to blows with The Circle who are also good.
Appearances
Edit