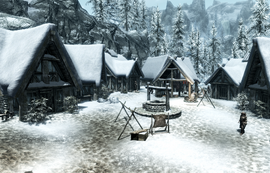 "Therefore, I humbly beseech any students of history who might encounter this modest text to travel to Solstheim and learn all that can be learned of this noble people and their ancient customs. The Skaal people might not be long for this world, but let us assure that their proud and noble legacy lasts well into the future."
The
Skaal Village
is a small settlement located in the icy tundra of north-eastern
Solstheim
. It is home to the
Skaal
people.
During the Third Era, the Nerevarine visited the village and befriended its inhabitants.[2]
Approximately two hundred years later, while a nord historian from Solitude was studying the villagers and their customs, the Last Dragonborn came to help them against the malevolent influences of Miraak.[3]
Appearance
Edit
References
Ad blocker interference detected!
Wikia is a free-to-use site that makes money from advertising. We have a modified experience for viewers using ad blockers

Wikia is not accessible if you've made further modifications. Remove the custom ad blocker rule(s) and the page will load as expected.