For other uses, see Skaal Village.

"Not much contact with others around here. Got the Skaal Village to the north, but the Nords there keep to themselves."
―Redoran Guard
The Skaal Village is a small Nordic settlement located in the icy tundra of northern Solstheim. It is one of the three settlements in Solstheim and it is a short distance north of Thirsk Mead Hall. In the center of the village, three Skaal can be seen "sustaining" a glowing column-like apparition. If interacted with, they will say that they need to concentrate. The village will be empty excluding the three Skaal around the column and the child Aeta until completion of The Fate of the Skaal quest.
Sublocations
Edit
Characters
Edit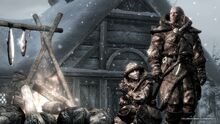 Side quests
Edit
Miscellaneous quests
Edit
Appearances
Edit