For other uses, see Soul Cairn.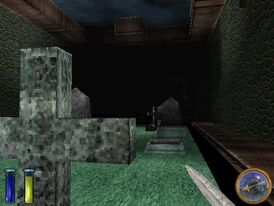 The Soul Cairn is a location within An Elder Scrolls Legend: Battlespire. It is the 3rd level within the questline of the game. The Soul Cairn is a plane of Oblivion that belongs to the Ideal Masters.
Appearance
Edit
The Soul Cairn is a gloomy area. It has a turquoise-like aura and is filled with graveyards, burial chambers, mausoleums and chapels.
After exiting level 2 of the Caitiff, you will enter level 3 of the Soul Cairn. Completing all objectives and speaking to the Ideal Masters will grant passage to level 4, the Shade Perilous.
The Soul Cairn is a plane where soul trapped souls go to once they have been used. All souls belong to the Ideal Masters.
Creatures
Edit
9 Ghosts
18 Skeletons
27 Wraiths
Appearances
Edit
Ad blocker interference detected!
Wikia is a free-to-use site that makes money from advertising. We have a modified experience for viewers using ad blockers

Wikia is not accessible if you've made further modifications. Remove the custom ad blocker rule(s) and the page will load as expected.