"One of the first landfalls settled by the Redguards when they sailed east from their lost homeland of Yokuda, the island of Stros M'Kai is now a haven for freebooters, sea-rovers, and other nautical entrepeneurs who roam the Abecean Sea."
―Stros M'Kai Loading Screen
Stros M'Kai is an island territory located on the eastern Abecean Sea near the mainland regions of Khefrem and Hew's Bane. The island has been important to the Kingdoms of Hammerfell as well as the Empires of Cyrodiil.
Description
Edit
Geography
Edit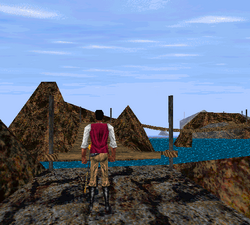 Stros M'Kai is one of the smallest islands owned by Hammerfell, and it is behind other territories such as Herne and Cespar in size. But what Stros M'Kai has an advantage on is its proximity to the mainland and the former capital of Hammerfell, Hegathe which is located north of the island on Khefrem. Stros M'Kai is heavily shrouded in sandy dunes and the rugged Ogre's Tooth Mountains which are on the western end of the Isle. The capital of Port Hunding is the located on large ravines that divide the city from the Palace. The river flows through Stros M'Kai and splits the main island into two. Hunding Bay refers to the large opening in central Stros M'Kai that has the Island of Iron Faces and the Statue to Frandar Hunding on it. Northwest of Stros M'Kai is the Spine, a small archipelago of small jagged islands that are largely uninhabitable. Off the coast of the main island and the Spine is an island colloquially known as the Isle of N'Gasta. It was the home of the elusive Sload race of Beastfolk that haunt the Abecean Sea.
Government
Edit
Main article: Stros M'Kai (Online)
Main article: Stros M'Kai (Redguard)
Settlements
Edit
Landmarks
Edit
Appearances
Edit