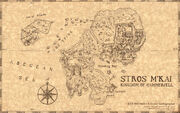 Stros M'kai, once the home of Crown Prince A'Tor, is an important island near the Cape of the Blue Divide, renowned for its Dwemer ruins, including the marvelous observatory known as the Orrery.
Formerly the principality of Thassad II's heir, A'Tor, Stros M'kai's small island served as the office of Provisional Governor Amiel Richton, who was charged with the protection and patrol of Hammerfell's barbarous southern coast. Lord Admiral Richton was the officer who defeated Prince A'Tor in the Battle of Hunding Bay, and was the greatest of a long line of heroes to serve in the Colovian West Navy. Stros M'kai itself would be an unassuming little port, famous only for its Dwemer ruins, were it not for its presently strategic location near the Cape of the Blue Divide, the waters around the Summerset Isles.
Appearances
Edit
Ad blocker interference detected!
Wikia is a free-to-use site that makes money from advertising. We have a modified experience for viewers using ad blockers

Wikia is not accessible if you've made further modifications. Remove the custom ad blocker rule(s) and the page will load as expected.