Summerset Shadows (Faction)
Talk

5
19,058pages on
this wiki
The
Summerset Shadows
are a
non-joinable faction
 in
The Elder Scrolls V: Skyrim
. They are a band of
Altmer
thieves led by
Linwe
, that formed in the
Summerset Isles
, homeland of the Altmer.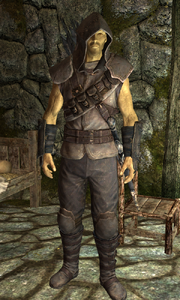 The Dragonborn is told by Delvin Mallory of the Thieves Guild to go to Windhelm and talk to Torsten Cruel-Sea. When done, he tells the Dragonborn about his daughter, Fjotli, and how he believes their leader, Linwe, killed her (which wasn't true; it was the Butcher). He says Linwe took Fjotli's silver locket (a "Cruel-Sea family heirloom") and that he wants it back. He tells the Dragonborn to talk to Niranye, an Altmer living in Windhelm, for more information. When talked to, she starts to get worried and goes on to tell the Dragonborn how she used to fence for the guild before Linwe and his boys moved in and forced her to fence for them. She also tells the Dragonborn how Linwe didn't kill Fjotli, but merely stole it off her corpse. She does however tell the Dragonborn the location of their hideout, and says she will begin to fence for the Dragonborn and the guild if he or she gets rid of them.
Linwe wears a unique set of gray Thieves Guild armor (Linwe's Armor Set) that can be taken from his corpse. It can be seen on the guild members Thrynn, Sapphire, Vipir the Fleet, Tonilia , and Ravyn Imyan.
The thieves in the Summerset Shadows all wear armor identical to that of the thieves guild armor.
They are also fairly easy to kill because they have a low armor rating and only carry steel maces or steel swords. Using the nightingale bow and steel arrow, while sneaking, one can kill all of them using only the bow and arrows.
Their name is based upon that of their homeland, the Summerset Isles.
Related quests
Edit
Appearances
Edit