Sweetroll (Skyrim)
Talk

2
19,062pages on
this wiki
Sweetroll
Weight:
0.2
Base Value:
2
Additional Effects:
Restores 5
Type: Food
FormID:

00064B3D

"Absurd that you can't get good sweetrolls in this skeeverhole of a city"
For other uses, see Sweetroll.
The sweetroll is a staple in many of Bethesda's games and is an ongoing joke. It functions as a food in Skyrim. When consumed, it restores five health points. It's a ring of pastry with some form of sugar or icing on the top. With the Hearthfire add-on, a sweetroll may be given to an adopted child as a gift.
Locations
Edit
Easter egg
Edit
Main article: Easter Eggs (Skyrim)
First appearance
Edit
Originated in The Elder Scrolls: Arena, at the beginning of the game, one of the class-determining questions is:
While in town the baker gives you a sweetroll. Delighted you take it into an alley to enjoy, only to be intercepted by a gang of three kids your age. The leader demands the sweetroll, or else he and his friends will beat you and take it. Do you: ...
Morrowind and DaggerfallEdit
The same question appears with slight variation in The Elder Scrolls III: Morrowind as well as The Elder Scrolls II: Daggerfall to determine starting skill levels.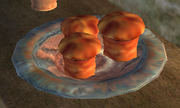 Occasionally, in Skingrad, if a character is asked about rumors, they talk about Salmo's sweetrolls. Then they will say "One time I took a sweetroll into an alleyway to eat when three thugs jumped out at me. So I took the sweetroll and..."
The ongoing sweetroll joke also appears in Skyrim; when the Dragonborn passes guards, on occasion they may say, "Let me guess, someone stole your sweet roll?"
In the Hearthfire add-on, a sweetroll can be baked in an oven using a salt pile, a jug of milk, a sack of flour, a butter and a chicken's egg.
Appearances
Edit