Tanning Rack
Talk

0
19,086pages on
this wiki
Redirected from Tanning
Tanning Rack
Weight:

Base Value:

Type: Interactive item
FormID:

0007866A
The Tanning Rack is a crafting station found in The Elder Scrolls V: Skyrim. Tanning Racks are used to make leather strips or leather, which are in turn used to craft armor and weapons and are a crucial materials for smithing items from scratch. Tanning does not increase the smithing skill.
Pelt acquisition
Edit
Animal pelts for creating leather can be looted from dead animals (fox, deer, bear, etc.) or purchased from hunters roaming the wilds and some town vendors. Unless the leather or leather strips are needed for use in crafting, it's best to make sure that converting every animal pelt in one's inventory to leather is worthwhile. Several pelts are usually worth more than leather when selling to vendors, and leather also weighs more than the pelts it is created from.
Locations
Edit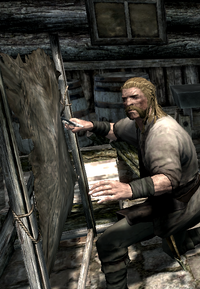 1 in Dawnstar at the blacksmith, near the lake.

1 in

Druadach Redoubt Cave

.

3 in Falkreath, 2 at the blacksmith, and the 3rd outside Dengeir's House.
1 in Froki's Shack, on the left side of the shack.
1 in Hag Rock Redoubt, outside Markarth near the main entrance to Dead Crone Rock.
1 in Halted Stream Camp inside fort, near slaughtered Mammoth.
1 in Heartwood Mill near mill.
1 in Ivarstead, near Fellstar Farm.
1 in Kynesgrove near the miners tents and crops.
1 in Largashbur.
1 in Lost Knife Cave.
2 in Riverwood, near Alvor's Forge and Sven and Hilde's House porch.
1 in Riften outside The Scorched Hammer.
1 in Sarethi Farm, on the left side of porch.
1 in Shor's Stone.
1 in Solitude, outside Solitude Blacksmith.
1 in Whiterun, outside Warmaiden's.
1 in Windhelm, outside the Blacksmith's Quarters.
1 in Honeyside, after purchase and the porch upgrade has been bought.
List of hides
Edit
Appearances
Edit