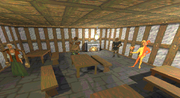 For taverns in other games, see Tavern.
Taverns are locations in The Elder Scrolls II: Daggerfall where the Hero can get food, jobs, and a room for the night. There are usually several taverns in each city, as well as some wayside inns out in the wilderness.
Upon entering an inn, the Hero may be asked by one of the people in the inn to help them out in some way. Usually these quests are simple delivery errands, but they may sometimes be more complicated, such as killing monsters or guarding homes.
Some quests require the Hero to go to an inn to meet a contact who will give further information about the quest.
Ad blocker interference detected!
Wikia is a free-to-use site that makes money from advertising. We have a modified experience for viewers using ad blockers

Wikia is not accessible if you've made further modifications. Remove the custom ad blocker rule(s) and the page will load as expected.