Tel Branora
Talk

0
19,069pages on
this wiki
Tel Branora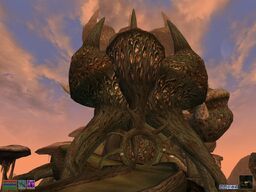 Map
Have a map of this location?
Then please upload it!
Tel Branora is the Telvanni stronghold of the sorceress Mistress Therana. The tower is somewhat away from the port where one arrives by boat. The tower is being staked out by a lesser Telvanni mage and a sub-quest can be attained by Therana's captain of the guards to dispose of these unwelcome guests. Therana herself is somewhat unstable (as even her mouth in Sadrith Mora will attest) and is best approached with extreme caution.
Locations
Edit
Main article: Tel Branora Locations
Appearances
Edit