Sightless Pit is a cave located in The Elder Scrolls V: Skyrim. The entrance is a straight drop down, meaning that once the Dragonborn enters, the only way out of the cave is to go forward.
An abandoned camp and a number of dead bandits early on in the cave warn them of a potential threat. Sightless Pit is inhabited by the Falmer, Chaurus, and their accompanying Frostbite Spiders, likely making it a very dangerous encounter for low to mid-level players, especially without the means of escape. The cave gradually transitions into a Dwemer Ruin complete with a number of traps, which eventually leads to the Temple of Xrib, a fairly large Falmer settlement.
Temple of Xrib
Edit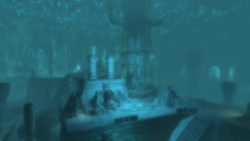 The Temple of Xrib is a large Falmer settlement, accessible only through the Sightless Pit or the unmarked exit at the far end of the chamber. It is home to a number of Falmer and their pet Chaurus, and as such may easily be an overwhelming encounter without proper preparation.
In addition to randomized loot on the Falmer inhabitants themselves, there is an altar containing a Dwemer chest which may contain a number of randomized valuable items. There is an elevator to an abandoned cave, which in turn leads to Skyrim.
Notable items
Edit
Appearances
Edit