Main article: Thalmor (Skyrim)
Thalmor Justiciars are roving groups of Thalmor who are occasionally met while traveling the roads. They consist of both mages and soldiers, but all share the name Thalmor Justiciar.
Should the Dragonborn converse with the Justiciar, they will have the option of saying whether or not they worship Talos. If they say that they do, the Justiciar will immediately turn hostile. Should they remain neutral on the subject, the Thalmor will assume the Dragonborn is hiding the fact that they are cooperating with the worship of Talos and turn hostile. The only way to avoid combat is to cancel conversation if things are turning accusational, or to exclaim a dislike for Talos. If the Dragonborn enters conversation with a Thalmor Justiciar twice, the second conversation will always end with the Justiciar deciding to attack the Dragonborn, regardless of the dialogue option chosen. 
Escorting prisoners
Edit
Justiciars may occasionally be escorting a Nord, presumably a Talos worshipper. The prisoner may be freed by starting a dialogue, which also allows for trading items. The Justiciars will immediately become hostile towards the Dragonborn, the prisoner, and any followers. Killing the Justiciars after they become hostile does not gain a bounty. After the Justiciars are dead, the freed prisoner will make his way to Windhelm.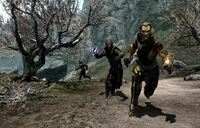 Thalmor Justiciars can be sent to kill the Dragonborn. This will start to happen when the Dragonborn has completed the quest "Diplomatic Immunity." They can also be sent if the Dragonborn has attacked Northwatch Keep or if the Dragonborn has attacked Thalmor justiciars roaming Skyrim. They may also attack the Dragonborn after killing Ancano during The Eye of Magnus. Prior to the completion of these quests, only the "assassin" squads sent specifically to hunt the Dragonborn will be hostile on sight; regular Thalmor squads will initially be neutral to the Dragonborn.
This section contains bugs related to Thalmor Justiciar. Before adding a bug to this list, consider the following:
Please reload an old save to confirm if the bug is still happening.
If the bug is still occurring, please post the bug report with the appropriate system template

 360 

 ,

 PS3 

 ,

 PC 

 .
If a fix to the bug is known, please provide it, but avoid use of first-person-anecdotes: such discussions belong on the appropriate forum board and not the article.
Appearances
Edit