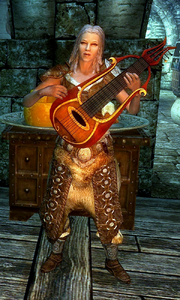 Not to be confused with Skyrim's theme song.
The Dragonborn Comes is the name of a popular song in The Elder Scrolls V: Skyrim. Most bards throughout Skyrim will sing the song upon request. The song's composer in Tamriel is anonymous. Can usually be requested via progressing a certain amount in the main questline.
Our hero, our hero
Claims a warrior's heart
I tell you, I tell you
The Dragonborn comes

With a Voice wielding power
Of the ancient Nord art
Believe, believe,
The Dragonborn comes

It's an end to the evil
Of all Skyrim's foes
Beware, beware
The Dragonborn comes

For the darkness has passed
And the legend yet grows
You'll know, you'll know
The Dragonborn's come
Appearances
Edit
Ad blocker interference detected!
Wikia is a free-to-use site that makes money from advertising. We have a modified experience for viewers using ad blockers

Wikia is not accessible if you've made further modifications. Remove the custom ad blocker rule(s) and the page will load as expected.