The End of Order is a quest part of the main questline in Shivering Isles.
Background
Edit
As the Greymarch closes in and threatens to destroy the whole land, the Hero is forced into a final showdown with the monstrous Jyggalag and his powerful army.
Walkthrough
Edit
The messenger is the Captain of the Palace Guard and she informs the Hero, regardless of how they chose to speak to her, that a giant Obelisk of Order has activated in the Palace courtyard and the Forces of Order are pouring out in a last, desperate gambit against them. Haskill is no help in this matter, but the three Golden Saints nearby will follow them if ordered.
Courtyard
Edit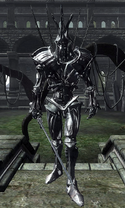 In the courtyard, they will find a great battle and two active obelisks. Each obelisk requires three Hearts of Order to deactivate. If they are not carrying any Hearts, keep killing Knights of Order and searching their corpses until one has gathered six.
As always, stay away from the Priests, as they will reanimate as long as the obelisks are active and their unconscious bodies will shock if searched. They will find themselves fighting alongside a great deal of Saints and Seducers — use them to their advantage.
Once both obelisks are shut down, a bright white shining light will shoot straight down into the courtyard. It will build in intensity until it bursts out into the courtyard, killing every single Saint and Seducer left.
Now the Hero must fight Jyggalag alone. He appears similar to a giant version of one of his Knights. He will heap scorn on them. Watch for his left hand, which deals a strong Shock Damage spell as well as the ability to knock you over. He will also regenerate Health over time.
The End of Order – SE13
ID
Journal Entry
6
The Captain of my Palace Guard needs my assistance at once. The messenger didn't know any details, but it sounds urgent.
9
The Captain of my Palace Guard has informed me that an Obelisk has activated in the Palace courtyard! It seems that Order is launching its final attempt to take control of the Shivering Isles. I need to defeat Jyggylag and his minions once and for all.
10
An Obelisk has activated in the Palace courtyard! It seems that Order is launching its final attempt to take control of the Shivering Isles. I need to defeat Jyggalag and his minions once and for all.
20
A second Obelisk has activated. I need to shut it down to stop the Knights from overwhelming the defenders.
30
A third Obelisk has activated. I need to shut it down.
50
Another Obelisk has activated. Jyggylag appeared to grow stronger when it activated. Perhaps shutting down the Obelisks will weaken him.
Another Obelisk has activated. I should shut it down to weaken Jyggylag.
60
Another Obelisk has activated. Jyggalag appeared to grow stronger when it activated. Perhaps shutting down the Obelisks will weaken him.
Another Obelisk has activated. I should shut it down to weaken Jyggalag.
80
Shutting down the Obelisks appears to weaken Jyggalag of some of his powers. I should deactivate as many Obelisks as I can to weaken Jyggalag.
200
255