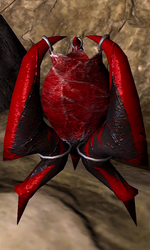 The Forbidden is a container found only in two locations. The first appears at the top of the Sunken Tower, in the Chorrol Gate realm of Oblivion, and contains Hatreds Heart, Hatreds Soul and Hatreds Soul Arrow.
The other is in the Forbidden Grotto of Paradise, and contains Orthe's Key, required for the main quest, and a random leveled potion. Its appearance is the same as a "the Punished", a large, still beating heart ripped open and hung on hooks.
Appearances
Edit
Ad blocker interference detected!
Wikia is a free-to-use site that makes money from advertising. We have a modified experience for viewers using ad blockers

Wikia is not accessible if you've made further modifications. Remove the custom ad blocker rule(s) and the page will load as expected.