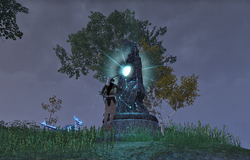 Main article: Mundus Stones (Online)
For other uses, see The Lady Stone.
The Lady is a Mundus Stone located in The Elder Scrolls Online. It can be found in Auridon in the Summerset Isles, Glenumbra in High Rock, and Stonefalls in Morrowind. Activating the stone confers a permanent armor increase until another stone is activated.
Stonefalls
Edit
Glenumbra
Edit
Appearances
Edit