The Lord
Talk

0
19,083pages on
this wiki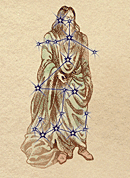 The Lord's season is First Seed and he oversees all of Tamriel during the planting. Those born under the sign of the Lord are stronger and healthier than those born under the other signs. Those born under the sign of The Lord have a 25% Weakness to Fire but gain access to a powerful Restore Health spell.
Being born under the birthsign of the Lord in The Elder Scrolls IV: Oblivion gives you the Blood of the North lesser power to regenerate up to 90 points of Health. However, you also gain the Trollkin curse, a permanent 25% Weakness to Fire.
Usefulness
Edit
If you like healing yourself but don't want to go to the trouble of using Alchemy or Restoration then this sign is for you. Going without a way to heal yourself is a terrible idea. Additionally, the Magicka cost for the heal is considerably lower than a similar Restoration spell, and its effect is not decreased by wearing Armor (as it is a Lesser Power rather than a spell). However, the Weakness to Fire may make this a less desirable options for characters who will be lower on health and armor. Enemies can sometimes bring out potent fire spells. That is when you want a different birthsign.