The Mallari-Mora is a quest available in The Elder Scrolls Online.
Background
Edit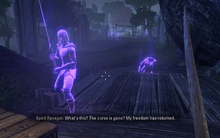 I discovered a Mages Guild expedition at the ruins of Ezduiin. A scholar named Telenger is in charge.
A group of students have gone missing. Telenger the Artificer recruits the Vestige to find them and the Mallari-Mora.
Uricantar, one of Telenger's former students, is using the researchers' souls to form a gate onto a shard of Aetherius. Meldil gives the Vestige his amulet to either release the researchers or kill them.
The Vestige continues through the ruin to find Uricantar and the Mallari-Mora. Kill Uricantar and take the Mallari-Mora back to Telenger for a reward.
Objectives
Edit
Quick walkthrough
Edit
Find Andewen
Collect runes (2)
Talk to Andewen at the ruin entrance
Search for missing researchers
Talk to Meldil

Optional: Talk yk Andewen

Release assistants (4)
Talk to Andewen
Enter the inner sanctum
Talk to Uricantar's projection
Seek out Uricantar
Recover the Mallari-Mora
Talk to Telenger the Artificer
Walkthrough
Edit
During this quest, you will have the option to either kill the researchers, or to enter the spirit realm and rescue them. If you choose the latter option, you will need to enter an Aetherial Gateway in order to leave the Spirit Realm.
91–377
References