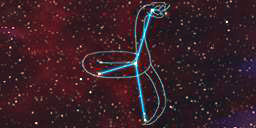 For other uses, see The Serpent (Online) and The Serpent (Celestial).
The Serpent is the thirteenth constellation existing in the Aurbis. It is no charge of a Guardian Constellation, doesn't have a season and seems to be wandering about the sky.[1] It is also formed by "Unstars", rather than planets and stars.[OOG 1] The Serpent constellation is not shown in the Imperial Orrery.
References
Notice
: The following are
out-of-game
references. They are not found in any in-game books, but can still be considered part of
The Elder Scrolls
lore and are included for completeness.