The Song of Pelinal, Book V
Talk

0
19,065pages on
this wiki

The Song of Pelinal Volume 5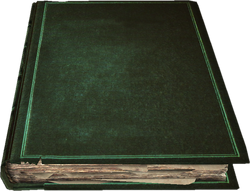 Title:
The Song of Pelinal Volume 5
Full Title:
The Song of Pelinal Volume 5: On His Love of Morihaus
Author:
Anonymous
Previous:
Next:
Skyrim
Weight
1
Value
5
FormID
0001AF8E
Oblivion
Weight
1
Value
150
FormID
xx000ed8
Main article: Books (Skyrim)
Main article: Books (Oblivion)
This is one of the eight volumes of The Song of Pelinal.
Known locations
Edit
It is a solid truth that Morihaus was the son of Kyne, but whether or not Pelinal was indeed the Shezarrine is best left unsaid (for once Plontinu, who favored the short sword, said it, and that night he was smothered by moths). It is famous, though, that the two talked of each other as family, with Morihaus as the lesser, and that Pelinal loved him and called him nephew, but these could be merely the fancies of immortals. Never did Pelinal counsel Morihaus in time of war, for the man-bull fought magnificently, and led men well, and never resorted to Madness, but the Whitestrake did warn against the growing love with Perrif.
"We are ada, Mor, and change things through love. We must take care lest we beget more monsters on this earth. If you do not desist, she will take to you, and you will transform all Cyrod if you do this." And to this the bull became shy, for he was a bull, and he felt his form too ugly for the Parvania at all times, especially when she disrobed for him. He snorted, though, and shook his nose-hoop into the light of the Secunda moon and said, "She is like this shine on my nose-hoop here: an accident sometimes, but whenever I move my head at night, she is there. And so you know what you ask is impossible."
Appearances
Edit