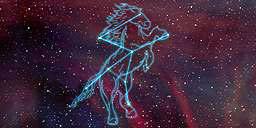 "Those born under the sign of the Steed are impatient and always hurrying from one place to another."
―The Firmament
The Steed is one of the thirteen constellations existing in the Aurbis. It is one of the charges of the Warrior and its season is Mid Year. [1]
In-game effects
Edit
TESIII: Morrowind
Edit
TESIV: Oblivion
Edit
TESV: Skyrim
Edit
References
Ad blocker interference detected!
Wikia is a free-to-use site that makes money from advertising. We have a modified experience for viewers using ad blockers

Wikia is not accessible if you've made further modifications. Remove the custom ad blocker rule(s) and the page will load as expected.