Thief (Class)
Talk

0
19,073pages on
this wiki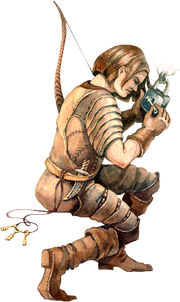 Profiting from the losses of others is their love. Able to be swift in shadow, and crafty in bartering. Locks are enemies, and lock-picks are their swords. (in-game description)
Thieves are quick, agile and cunning. They are especially adept in combat to surprise an enemy or scout, or to deliver critical hits. Thieves typically develop skills more quickly than other character classes.
To maintain their nimbleness and stealth, thieves typically utilize Light Armor, and use light shields. They are especially adept at using such weapons as the dagger, short sword, broadsword, sabre, war axe and short bow. Due to this a Thief is capable of switching to warrior or weak mage in higher levels.
The Thief is a premade class.
Specialization
Edit
Playable Class In
Edit