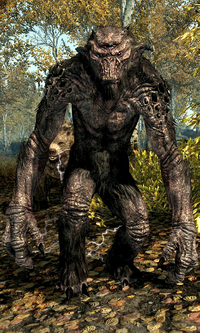 Trolls are large, hairy, apelike creatures with sharp fangs, claws, and long powerful arms. These creatures have three beady black eyes, their skulls being easily recognized by their three eye sockets.
Description
Edit
Commonly found in forests, Trolls also inhabit caves, ruins, and mountains. While not very intelligent, Trolls compensate with tough physical prowess and the ability to regenerate health. Many Trolls display a Weakness to fire damage, spells, weapon enchantments, and poisons that deal Fire Damage or raise susceptibility to fire damage.
Trolls by game
Edit
Bloodmoon
Edit
Appearances
Edit
Ad blocker interference detected!
Wikia is a free-to-use site that makes money from advertising. We have a modified experience for viewers using ad blockers

Wikia is not accessible if you've made further modifications. Remove the custom ad blocker rule(s) and the page will load as expected.