Trollsbane's Demise is an unmarked location found in The Elder Scrolls V: Skyrim.
Trollsbane's Demise is a troll den located halfway between Valthume and Cradle Stone Tower. The den is home to two trolls fighting one another over the dead body of a Nord hunter named Frofnir Trollsbane.   
Go to Cradle Stone Tower. 
Walk in the opposite direction from the river (West).
Fully drop down the cliff side.
Fight off the two trolls.
Go to their hollowed out nesting area: Trollsbane's Demise.
Notable items
Edit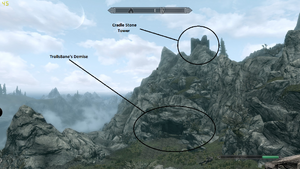 It is called "Cradle Stone Crag" in the official Skyrim game guide published by Prima.
Appearances
Edit
Ad blocker interference detected!
Wikia is a free-to-use site that makes money from advertising. We have a modified experience for viewers using ad blockers

Wikia is not accessible if you've made further modifications. Remove the custom ad blocker rule(s) and the page will load as expected.